swiss alpine pass route – via alpina 1 trek
This is the photo diary of Dave Butcher for the Swiss Alpine Pass Route from Sargans near Liechtenstein to Montreux in Switzerland. We walked the section from Sargans to Grindelwald in September 2013 having already completed the section from Grindelwald to Montreux in 2006.
The Swiss Alpine Pass Route is now also called the Via Alpina 1 for most of the route. This is part of the much larger Via Alpina that goes from Trieste in northeast Italy through 8 countries to finish in Monaco. In total it is over 5000 km (over 3100 miles). We saw quite a few signposts for the Via Alpina 1 in 2013 but saw none for the APR in the whole 16 days spread over 7 years.
Walking Team for both 2006 and 2013
Jan (my wife), me, Phil Moorhouse (a friend I met on a ski mountaineering trip in the 1990's), Rob (we used to work with him in the 1970's) and Annie (American wife of Rob).
Support Team
2006: Rik and Glen. We have known Rik since the 1970's, then he ran a pub in Norfolk (The King William in Sedgeford) with wife Glen before retiring a few years ago. They now tour the world a few months a year in their camper van and wanted to see Switzerland so they volunteered to transport our luggage between our accommodations and be with us each evening. They were able to park close by each evening. They made the trip possible as I would not have been able to carry the load with my bad back.
2013: Rik and Glen were unable to join us so we paid the newly formed Swiss company Swiss Trails to move our luggage and also book our hotels. They did an excellent, faultless job for us.
Swiss Alpine Pass Route Part 1
Getting there 2013
Friday 30th, Saturday 31st August 2013 Tunstead Milton to Folkestone to Calais to Trier
We drove down to Folkestone and caught an early shuttle across the channel the following day. Then 6 hours from Calais we arrived in Trier, Germany, our first time here and overnight stop. It was overcast with rain showers so I didn't rush to take photos in the town. My bad back needed time to recover anyway. We wandered around to get our bearings waiting for the rain to stop and the clouds to break up, which they did at around 6pm. The pedestrian zone in the centre has so many vehicles driving around it the name is a bit of a misnomer!
Took photos of the old Roman gate, the main medieval square and the cathedral then had a break as the light faded. Found a pub that sold Schwarzbier and reasonable food to while away the time until dusk. Shooting resumed about 8.30pm, lights were on and starting to look good but there was still detail in the sky. Took the main locations again as night shots. I was all finished by 9.45pm.
Sunday 1st September 2013 Trier to Frankfurt
From Trier we drove a few hours to Frankfurt to stay with my agent, Antje, and her family, and have a meeting the following day about new opportunities for licensing my photos.
Monday 2nd September 2013 Frankfurt to Grindelwald
From Frankfurt we drove down to Grindelwald in central Switzerland. We had a couple of days here to find our walking legs and take photos in clear, sunny weather. We were staying at our favourite hotel, The Chalet-Hotel Alte-Post. They kindly allowed us to leave the car there. We stayed there 5 nights at the end of the walk too.
As for every walk we do I had compasses and local detailed maps, this time at a scale of 1:50,000. In addition I had a Satmap 10 gps with Swiss 1:50,000 maps loaded. I programmed the entire route using their X-pedition online planning system. Every step of the way it was easy to see where we were on the map and this allowed me to concentrate on the photographs and the views!
The Route
The Alpine Pass Route, APR, starts in Sargans at the eastern border of Switzerland with Liechtenstein and ends in Montreux on the shores of Lake Geneva (Lac Leman). It is 205 miles long, crosses 17 passes with a total ascent of 18,000 metres (59,000 feet), a high point of 2778m and took 16 days to do the entire route. We chose to start with the second half from Grindelwald to Montreux over 8 days and returned in 2013 to walk another 8 day section from Sargans to Grindelwald. The route is described in the Cicerone Press guidebook Alpine Pass Route by Kev Reynolds. We all had copies but didn't carry it during the hikes, it was just for reference at the start and end of the days. We just used maps and gps for route finding.
Wednesday 4th September 2013 Grindelwald to Zurich to Sargans by Train
We travelled from Grindelwald to Zurich where we had a couple of hours for taking photos around the city. I took photos along the river, across the lake and around the Old Town. After 2.5h I had the shots I wanted so we returned to the station and caught the train to Sargans. We were meeting friends in the Hotel Löwen, just below the castle. Lots of catching up to do over a few pints and a few glasses of wine.
Thursday 5th September 2013. Day 1 Sargans to Weisstannen, 8 miles
Today we resumed the Alpine Pass Route in Switzerland that we started 7 years ago when we walked from Grindelwald to Montreux, on the shores of Lake Geneva.
It was a short day today, just 8 miles in a leisurely 4 hours. Jolly warm though. Temperatures around 27ºC. Lots of walking in forest which was much cooler than open hillside. An easy introduction to the trip. We arrived at our hotel in Weisstannen in time for lunch, I shared a Rosti with Phil and had a couple of Dunkel beers.
Friday 6th September 2013. Day 2 Weisstannen to Elm via Foo Pass 2223m, 15 miles
We had an early breakfast at 7am as it was going to be a long tough day today. Shortly after 8am we started walking up the valley along the river. So many waterfalls! Lots of cows with very loud cow bells for company. Easy walking for a few miles then a steep climb to the Foo pass. We reached the pass by 1.15pm. This was the main event of the day at 2223m and clear views in all directions. Took a few photos here on my Mamiya 7 camera as well as a few on my mobile phone so that I had some images for my blog. The images show the view from the Foo Pass. Jolly steep descent from the pass and we quickly came to the Raminer farm which seemed to be selling refreshments, including beer. After a short stop for a pint we continued down to Elm, which took a further 2 hours. Elm is a pretty but quiet village and we stayed in the Elmer hotel and were very well looked after.
Foo Pass View East
Foo Pass View West
Saturday 7th September 2013. Day 3 Elm to Linthal via Richetli Pass 2261m, 13 miles
Yesterday was a big day for us and jolly tiring so we decided to shorten today's walk by 4 miles by using the bus. The weather was due to close in later so this also gave us the best chance of decent weather for photographs from the high points.
We were walking by 9.40am at 1700m. It was a steady climb from the Obererbs Ski hut where the bus dropped us off to the first saddle at 11am. Good views and sunshine. From here it was an easy downhill section to a bowl below the pass. We were on the Richetlipass at 12.15. Nice light and clouds looking back. A bit hazy ahead. Steeply downhill for a long time, some of it along the top of old glacial moraines to the valley floor. Another couple of hours saw us in Linthal at 4.30pm. Dunkel beer on draught aided recovery! That's 3 dry days running.
Richetli Pass from Saddle
Sunday 8th September 2013. Day 4 Linthal to Unterschachen via Klausen Pass 1948m, 18 miles
Today, our fourth day on the Alpine Pass Route, was our first wet day. It was raining as we left the Hotel Bahnhof in Linthal and it was still raining as we arrived at the Hotel Alpina in Unterschächen. The only thing that changed was the intensity. It was a bit under 10 hours and 17 miles, with about an hour of stops through the day. We started at 8.15am. The first few hours we climbed up through forest so we were sheltered from the rain but it was warm and humid. Not that pleasant but some stunning cliffs to weave through. Above the forest it opened out to alpine meadows and the rain was harder. We took shelter at Urnerboden for a lunch break at 12.30. I did take a shot of Urnerboden but only on my Samsung Galaxy S3 phone.
It was raining too hard for me to use my Mamiya 7 camera. From here it was a steady climb to the Klausen Pass, where we stopped for a snack at 2.50pm. At 1900 metres we had hoped for good views but with low rain clouds we saw nothing. After a long traverse from the pass it was steeply down on a good path to Asch / Aesch. This should have been one of the highlights of the trip with a very large waterfall immediately behind the village. Unfortunately it was raining but I managed 4 shots on my Mamiya 7 camera and several on my Samsung S3. Low cloud so unable to see the top.
Aesch Waterfall
Aesch Waterfall on a sunny day from the stream bed
This photo taken after the trip. We drove back to Unterschachen and walked up to the falls at Asch / Aesch.
Monday 9th September 2013. Day 5 Unterschachen to Attinghausen, 11 miles
Today started where yesterday ended, with rain and low cloud. The Hotel Alpina in Unterschächen was good and most of our clothes were dry. The walking was not that memorable, being mostly along or close to roads. The town of Burglen was interesting, with it's claim to fame being that it was where William Tell came from. Unfortunately it was shut! I took a few photos around the church while the rest of the group searched in vain for somewhere that was open for lunch. We carried on along the river towards our hotel in Attinghausen as the skies above cleared. The Hotel Krone where we are staying is a very friendly place with good food and beer. I also took some photos of the castle ruins near our hotel. Nice light, nice sky.
Burglen Church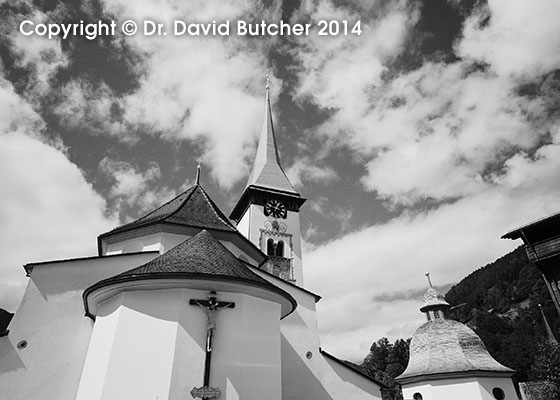 Tuesday 10th September 2013. Day 6 Attinghausen to Engelberg via Surenen Pass 2291m, 15 miles
Another long day on our 8 day walk from Sargans to Grindelwald along the Alpine Pass Route. We had an early breakfast so that we could catch the small gondola lift from Attinghausen to Brusti before the rush. We were walking by 8.30am and the rain was clearing with the sun trying to break through. Nice little ridge as we climbed higher to the saddle of Angistock. Then we lost quite a bit of height as we avoided a slope prone to rockfall. Then up to the Surenen Pass at 2291m by late morning. It was cold but still dry. We dropped down to a ski hut (about the size of a garden shed) to have lunch inside. Shortly after leaving the rain returned and continued for the rest of the day. No views or photos after this. Stopped at a hut for hot soup and a break from the rain. Then down for another hour or so to another hut for a beer. Really heavy rain for the rest of the descent. We arrived at our hotel at 5.30pm looking like drowned rats!
Angistock View
View along ridge towards Surenen Pass
Wednesday 11th September 2013. Day 7 Engelberg to Meiringen via Joch Pass 2207m, 11 miles
Another good start to the day. Dry but cold. Clouds on the tops though. Started in the best way by catching the cable car to the top! Good view behind us over Truebsee Lake. Walked past lake to another lift to Joch Pass. This resembled a building site so quickly moved on. Fresh snow overnight above 1800m. Looked like winter. Good views with nice skies but no mountain tops. After the Engstlensee lake below the pass we climbed to Tannalp and on to Balmeregghorn. The weather was closing in here. Low cloud and snow. The next section should have been spectacular. A narrow traverse up to Planplatten. The snow was falling harder and it was windy so we took the quick way down; a convenient cable car from Planplatten to Meiringen from 2100m! We were down before the forecast rain and testing the local beer before reaching our very comfortable hotel.
Truebsee above Engelberg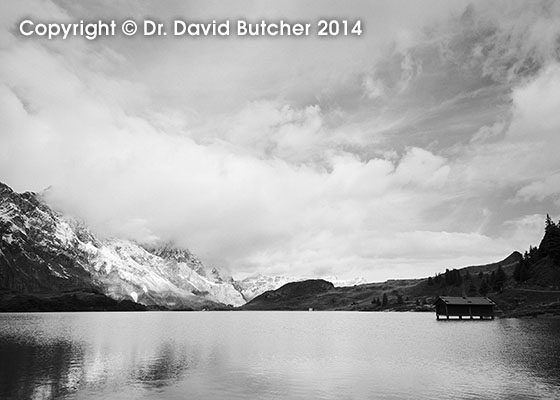 Joch Pass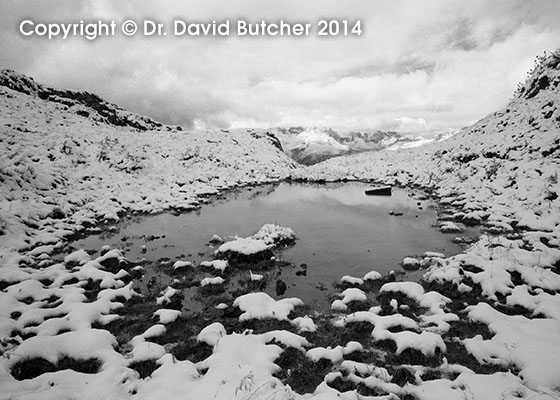 Engstlensee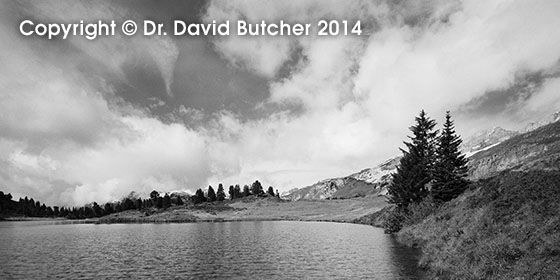 Engstlenalp
Thursday 12th September 2013. Day 8 Meiringen to Grindelwald via Grosse Scheidegg 1962m, 17 miles
Our last day walking the Alpine Pass Route. This completes this half of the route, as well as the entire walk from Sargans to Montreux as we walked from Grindelwald to Montreux in 2006.
The day started wet in Meiringen as we made our way up past the impressive Reichenbach Falls, the place where Sherlock Holmes met his fate. It was a steady climb up through the trees and meadows to Schwarzwaldalp where we stopped for a short lunch break. The rain started again before reaching the Grosse Scheidegg for another break. It was just a stroll from here for a couple of hours to our finish at the Alte Post Hotel in Grindelwald.
Reichenbach Waterfall
Reichenbach Falls above Meiringen in Switzerland, where Sherlock Holmes was killed off by Arthur Conan Doyle; negative 523403
Friday 13th to Monday 16th September 2013 Grindelwald
Stayed at the Grindelwald Chalet-Hotel Alte Post and walked the local paths around and above the village.
Tuesday 17th September 2013 Grindelwald to Luxembourg
We drove from Grindelwald to Luxembourg. It was mostly wet so very few photos, even though we stayed in the centre of the city.
Wednesday 18th, Thursday 19th September 2013 Bruges Photography
We drove from Luxembourg to Bruges where we stayed 2 nights in order to take photographs.
Friday 20th September 2013 Bruges to Ostend to Calais to Folkestone
We drove from Bruges to Ostend for a brief walk around before continuing to Calais where we walked along the beach while we waited for our Eurotunnel slot. We stayed the night in Folkestone.
Saturday 21st September 2013 Folkestone to Home
Our last day of the trip was driving back from Folkestone to Tunstead Milton in the Peak District.
Swiss Alpine Pass Route Part 2 2006
Getting there 2006
Originally we planned to fly to Geneva and catch the train but a few weeks before the trip there was a massive security alert for air travellers with a plot to blow up several planes with explosive liquids carried in hand luggage. The new hand luggage restrictions would have prevented me from carrying any film onto the aircraft so we changed plans and drove instead. Any film in hold luggage would be ruined by the powerful x-rays used on such luggage, much stronger than those used for hand luggage. We cancelled our flights and lost the air miles that we had used to book the flights. British Airways did not seem to care about our situation or value our future business.
We decided before leaving that we would not knock ourselves out trying to walk every step of the way; if there was a convenient lift, train or bus that would get us in a good position fast, without missing some key point of interest, we would use it. As the original instigator, and organiser of the trip, a major part of it for me was to take photographs to add to my picture library for possible future sales.
I bought the Swiss map CD for the area so that I could program my Magellan Explorist GPS to keep us on track without too many headaches. I had programmed every major junction, village and the main mountains on the route, several hundred waypoints. We had 2 sets of maps and compasses between us too, so we did not rely on new technology completely. The GPS was particularly useful at forks in the track, large changes in direction were obvious no matter what technology was used. We also knew what the neighbouring peaks were without unfolding the map and the general direction of our objective at all times. It proved to be a good addition to the navigation tools and removed some of the stress of route finding in bad weather.
Friday 25th August 2006 Home to Harpenden
We drove down to stay with relatives in Harpenden so that we could drive to Dover early the next day.
Saturday 26th August 2006 Harpenden to Dover to Dahn
We drove to Dover and caught the 9.30am ferry to Calais. Then we drove northeast to Belgium and southeast around Brussels and Saarbrucken and eventually to the Hotel Pfalzblick in the village of Dahn in the Pfalzerwald Nature Park in Germany (northwest of Karlsruhe).
Sunday 27th August 2006 Dahn to Schluchsee
We decided that we would find somewhere to stay in the Black Forest and stopped at the Hotel Schiff in Schluchsee, a lovely old hotel on the lakeside.
Monday 28th August 2006 Schluchsee to Lucerne to Grindelwald
After a short walk around the lake shore we loaded up the car, checked out and drove to Lucerne for a look around and a few photos before continuing to Grindelwald. Jan and I arrived in Grindelwald near Interlaken in Central Switzerland. We stayed in the Chalet-Hotel Alte Post, a hotel we have used several times in the past. It has a great restaurant attached and they are very friendly and welcoming. They also kindly allowed us to leave our car in their car park.
Tuesday 29th August 2006 Day 9 Grindelwald to Lauterbrunnen via Kleine Scheidegg 2061m: 13 miles, 1118 metres of ascent, 5h 55m
We walked 2 miles to the Mannlichen lift station in Grindelwald Grund and caught the 10am cable car to the top station, about 20 minutes. From here we walked up Mannlichen (2343m) for photos from the top. Lots of clouds hanging around below the tops. Then around the balcony route to Kleine Scheidegg (2061m). This is a great little path with views straight ahead to the north face of the Eiger. We walked down to the bustling Kleine Scheidegg at 12.20pm where we met up with Phil who had chosen to walk up from Grindelwald. The weather was closing in and it started raining heavily as we walked down to Wengen, reaching it at 4.15pm. We were quickly soaked and decided to take the train down to Lauterbrunnen and the Hotel Silberhorn.
Eiger and Monch from Mannlichen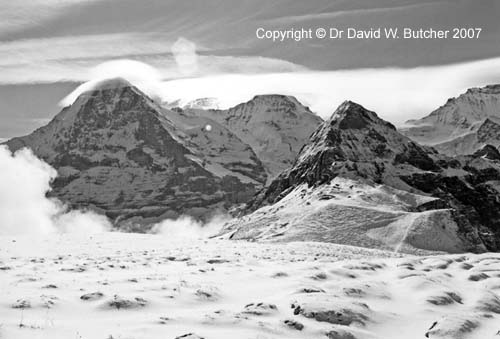 Eiger North Face
Eiger from above Kleine Scheidegg
Wednesday 30th August 2006 Day 10 Lauterbrunnen to Golderli via Sefinenfurke 2612m, 11 miles, 1815 metres of ascent, 8h 30m
We left the hotel and headed for the bus stop down the Lauterbrunnen valley to the Schilthornbahn at Stechelberg where we caught the cable cars to Murren, changing part way up. Murren had 4 inches of snow on the ground; the rain we had yesterday had turned to snow as the temperature dropped in the evening. We started walking at 9.30am. The clouds were down so we saw nothing for the first hour or so. We headed for the Rostock Hut where we stopped at 12.10pm for a bowl of soup. A half hour later we were off again up the snow slopes to the pass. We reached the Sefinenfurke pass (2612m) at 3pm, there was about 15 inches of fresh snow here and we had been having snow showers and short sunny spells through the day. To help us reach the top of the pass there was a cable and rope hand rail attached to the rock, as well as snow-covered steps. On the descent we could use the cable for a sort of abseil and it made it easier than it would otherwise have been. We arrived at the Berggasthaus Golderli on the edge of Griesalp at 6pm for a quick shower and dinner at 6.30pm. We had booked a room for 4 and a place in the dormitory for Phil but in the end we had 2 rooms since there had been a couple of cancellations with the bad weather.
Jungfrau from below Sefinenfurke
Sefinenfurke Descent – view from the pass looking west
Thursday 31st August 2006 Day 11 Golderli to Kandersteg via Hohturli 2778m, 10 miles, 1370 metres of ascent, 10h 30m. High point for the entire route of 2873m
We left Golderli at 8am (breakfast was at 7am) with a clear blue sky above. What a contrast to yesterday. There was frost on the fields and snow on the ground above 2000 metres. A good track led up to the pass and there were cables, ropes, chains and steps to aid our ascent and descent from the Hohturli, the highest point on the entire Alpine Pass Route at 2778m. There was about 18 inches of soft, fresh snow at the pass. The views were spectacular and we decided to climb up the snow to the Blumlisalphutte (2873m) for a beer and a snack. It was about a half hour up to the hut and after a break of an hour we were off again. There was steep snow on the descent and the cables made it really easy. Impressive glacier fingers from the high peaks on our left (Blumlisalp, etc). The snow petered out above the 2000m level and we were back to summer meadows (alps) with cows grazing. We stopped at the Ober Bergli on the crags above Oeschinensee (lake) for another beer. Then we followed a steep track down a couple of small cliffs to reach the trail beside Oeschinensee. It was a very easy walk out from here to the Hotel Adler in Kandersteg which we reached at 6.25pm.
Hohturli from Griesalp above Golderli
Hohturli View back towards Sefinenfurke to right of photo
Blumlisalp from Hohturli
View from Blumlisalp hut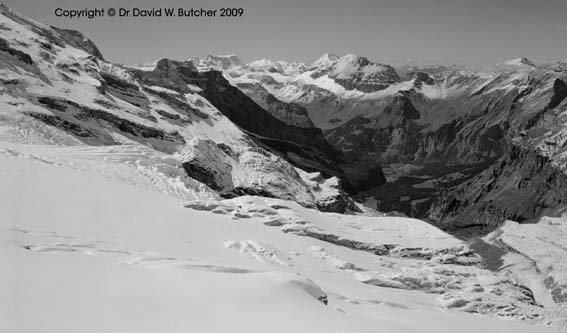 Doldenhorn from above Kandersteg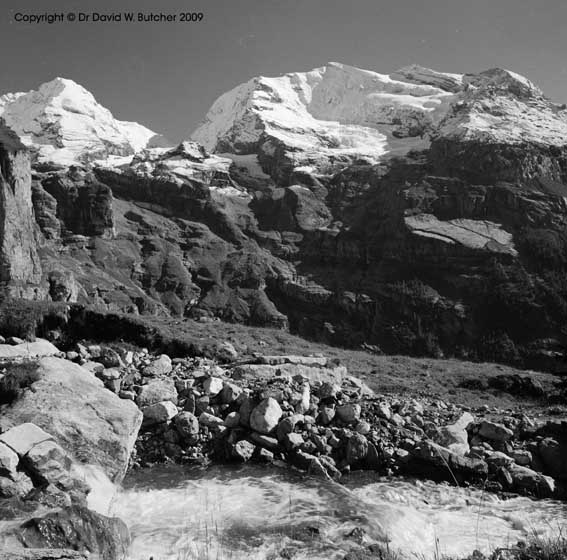 Oschinensee and Doldenhorn above Kandersteg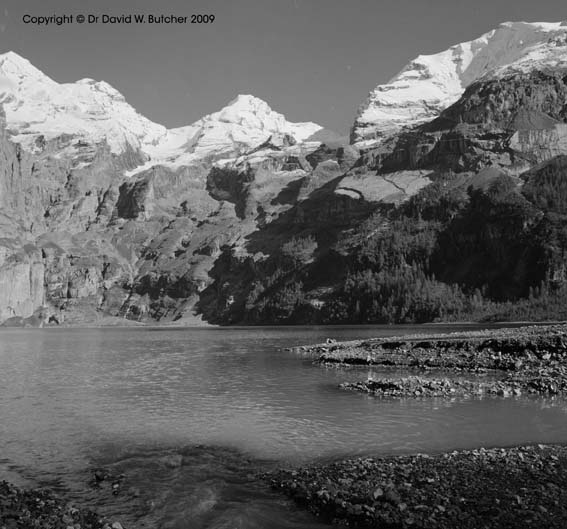 Friday 1st September 2006 Day 12 Kandersteg to Adelboden via Bunderschrinde 2385m, 8 miles, 1209 metres of ascent, 7h
We left the hotel at 8.15am and headed to the cable car which started running at 8.30am. From Undere Allme at the top we headed uphill then left for the Alpschelegrat, the last section of the track was narrow and quite exciting with a steep drop on our left. This is clearly not a well trodden route! Time for photos from Alpschelegrat then we headed up the last section to Bunderschrinde pass (2385m). We spent quite some time here in the sunshine with clear blue skies all day. Then it was down to the lush green meadows on the Adelboden side of the pass. We stopped for a few beers and Rosti at the Berghaus Bonderalp at 2100m. An elderly couple run it and the husband brought out his Alpenhorn to give us a demonstration. We were here for 2h 30m – quite a long break! Good view of the nearby Wildstrubel (skied in 1999 on Western Bernese Oberland traverse ski mountaineering trip) and lots of other big peaks. The track went steeply across some fields below the Bonderalp and as we were walking along we started to hear the Alpenhorn again from over a half mile away. We enjoyed our time at the Bonderalp and were well looked after. At 5.30pm we reached the Hotel Baren in the narrow main street of Adelboden, right in the centre of the busy little village. It was a traditional wooden chalet but with all that you would expect from a modern hotel. Our rooms were very large with balconies over the street and views to the mountains that we had just crossed. Our room had a double bed and a mezzanine floor with another bed up there.
Bunderschrinde View East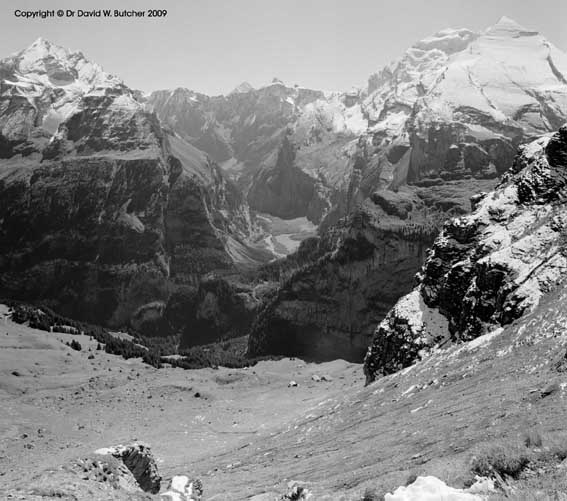 Bunderschrinde View West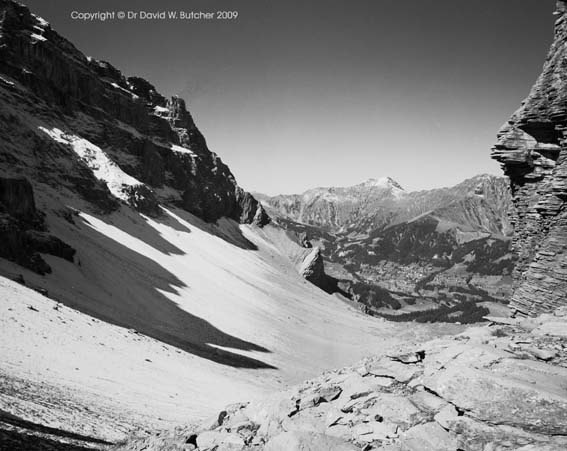 Saturday 2nd September 2006 Day 13 (day 5 2006) Adelboden to Lenk via Hahnenmoos Pass 1956m, 14 miles, 696 metres of ascent, 9h
It was a grey day and we reluctantly left the Hotel Baren (it was very comfortable and the food and service was excellent) at 8.50am walking down to the river and then up to the Geilsbuel cable car station. We decided to save some time and take the cable car to the Hahnenmoos Pass (1956m), reaching it at 11am. We came down a good track to a road with waterfalls where we diverted to the Siebenbrunnen waterfalls. Very impressive falls flowing over rocks from several directions with the tops of all the falls completely overgrown making it look as if they were issuing from below some scrubby bushes and small trees. It was raining here so after a few photos we retired to the restaurant for a beer. We then went down to the Simmenfalle waterfalls for more photos (one later sold to the International Graphics Walmsley (IGW) publishing company in Germany) and then to the nearby restaurant for a beer. We left a bit after 5pm and reached the Alpenhotel Residence in Lenk at 6pm, our home for the night.
Simmenfalle, as sold to IGW
Sunday 3rd September 2006 Day 14 Lenk to Gsteig via Truttlisberg 2038m and Krinnen Passes 1659m, 13 miles, 1388 metres of ascent, 6h 30m
We left Lenk at 9.10am and walked to the cable car to Betelberg. From here we were able to spend some time walking along a really interesting ridge. It was criss-crossed by huge limestone crevasses and holes, quite narrow in places with steep drops to the side. At 11.30am we reached the Truttlisberg Pass (2038m). From here it was downwards across meadows to the vilage of Lauenen where we stopped at the Hotel Wildhorn for lunch at 1.15pm. I had Rosti Speck (bacon) and a couple of beers, it was excellent. We left after 1h 30m (no point rushing!) and headed through the village and up to the Krinnen Pass (1659m) at 3.50pm, then down to what looked like a really old traditional wooden chalet-style Hotel Baren in Gsteig, just behind the shapely church by 5pm. It was overcast quite a bit but we had some sunny spells and it was warm most of the time.
Truttlisberg Pass View North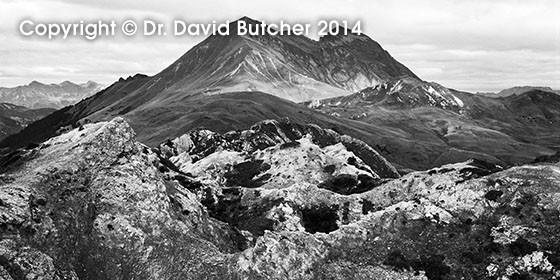 Truttlisberg Pass View towards Lenk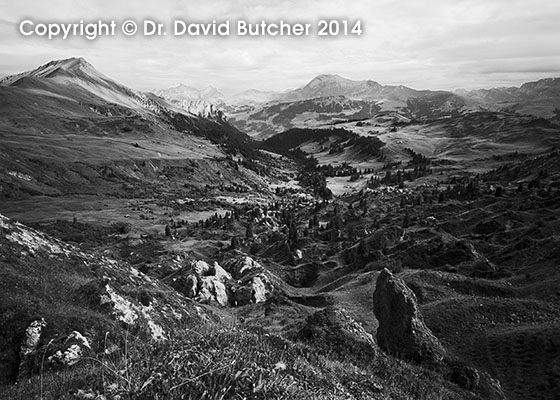 Monday 4th September 2006 Day 15 Gsteig to Col des Mosses 1445m via Blattipass 1900m, Col de Vore 1910m and Col des Anderets 2034m, 15 miles, 1050 metres of ascent, 9h
At 8.50am we were on our way back down the valley then heading up to the Blattipass (1900m) which we reached at 11am. On to the Col de Vore (1910m) at 1.15pm and a short while later we stopped at the Chalet Vieux for a short beer stop. A half hour later we on our way to the Col des Anderets (2034m) and quite a trek around the hillside and down to reach the wide, busy Col des Mosses(1445m). We had sun and hot weather all day. A main route from Aigle to the Gstaad region. We stayed at Le Relais Alpin, a modern sterile hotel more used to coach parties than small groups of walkers such as us. The Col is also a bit of a bleak place, there is not a lot else here.
View east from Col des Anderets
Tuesday 5th September 2006 Day 16 Col des Mosses to Montreux via Col de Chaude 1621m and Rochers de Naye 2042m, 13 miles, 520 metres of ascent, 9h 05m
Our last day started at 8.40pm with us striding out towards a large reservoir and dam which gave us a different sort of view. We could also clearly see the Tour de Famelon and the Tour d'Ai that we had climbed in 1994 (training peaks before going to Zermatt to climb the Breithorn and Signalkuppe (Monte Rosa) – both 4000m peaks). By 11.15am we reached the Barrage de l'Hongrin. We had a couple of hours climbing uphill to reach the little Chalet Alp Chaudes where we stopped for a beer for a half hour. Then it was up to the Col de Chaude (1621m) by 2.30pm where we left the road and headed steeply to the Rochers de Naye (2042m) and the railway. This was the end of our trip; we had decided to avoid the walk down but instead to enjoy the view from the luxury of a train. We reached Montreux at 5.40pm and the Hotel Elite at 6.20pm after another sunny hot day. All 7 of us celebrated with a very nice dinner at a restaurant on the shores of Lake Geneva and copious amounts of beer and wine.
Col de Chaude View East, taken just a bit above the pass. Snowy peak left of centre is Jungfrau.
Lake Geneva in Montreux
What a great walk! No route signposts on 2006 trek but lots of Via Alpina 1 signs (similar route to APR) for 2013 trek. Used maps, compass, gps and guidebook by Kev Reynolds (Cicerone Press). Few people most of the time. Great scenery, very photogenic so lots of photographs taken. I have a bad back so we did not knock ourselves out with really long walking days. We used a few cable cars and a train but this allowed us longer breaks at some mountain restaurants with spectacular views and we did not need to rush the walking. Stayed in some good hotels and were well looked after pretty much everywhere.
Totals: 205 miles, 17 passes, 16 days of walking
Cameras
Mamiya 7, 43mm, 50mm, 65mm and 80mm lenses, Ilford FP4 120 film. I was used to using Mamiya 6 cameras before this trip (since 1993 in fact) but Mamiya UK loaned me 2 Mamiya 7 cameras and 3 lenses (between 2006 and 2008) and I was trying them out on 2006 trip. A spare camera body and lens stayed in our luggage that was moved between hotels. In 2008, when Mamiya asked for the cameras back, I was convinced that I needed to switch permanently and bought my own Mamiya 7 cameras and lenses and I have used these exclusively ever since.
Tripod
Gitzo Mountaineer 1028 carbon fibre with Manfrotto quick release head, weight just over 1 kg.
Film
Ilford FP4 120 (10 negatives to a roll with Mamiya 7 cameras).
Filters
B+W Yellow, Dark Yellow and Orange
Spot Meter
Sekonic 508 Zoom
Camera Case
LowePro Inverse 200AW + chest harness, with built-in waterproof cover