swiss alpine pass route – via alpina 1 trek
I started thinking about long treks in the Alps after backpacking around the Tour Mont Blanc in 1987, with my wife Jan. Then I came across a book called The Alpine Pass Route by Jonathan Hurdle about a walk from Sargans in the east of Switzerland (close to the border with Liechtenstein) to Montreux on Lake Geneva. I leafed through it so many times, bought detailed Swiss maps so that I could see the route properly but didn't take it any further. In 2004 I walked from Fort William to Ullapool and the Tour Mont Blanc again (in the opposite direction) with good friend Phil, an old ski mountaineering pal, and in 2005 we also walked from Ullapool to Cape Wrath to finish a lengthy series of 3 treks from Milngavie, Glasgow to Cape Wrath.
There was nothing planned the following year so I floated the idea of walking the Swiss Alpine Pass Route (APR) with Jan, Phil and Rob and Annie (good friends who live in Colorado). Somewhat surprisingly they all thought it was a good idea and signed up. I bought copies of the latest guidebook by Kev Reynolds/Cicerone Press to give to everyone so that they could see what they were actually letting themselves in for and then started planning in earnest.
We walked the section from Grindelwald to Montreux in 2006 and returned to complete the trek with the Sargans to Grindelwald section in September 2013. The Swiss Alpine Pass Route is now also called the Via Alpina 1 from Sargans to Lenk. This is part of the much larger Via Alpina that goes from Trieste in northeast Italy through 8 countries to finish in Monaco. In total it is over 5000 km (over 3100 miles). We saw quite a few signposts for the Via Alpina 1 in 2013 but saw none for the APR in the whole 16 days spread over 7 years. I have done a lot of treks over the years and this is right up there with the best of them. In my opinion it's even better than the Tour Mont Blanc as the scenery is more varied, there are fewer people (apart from the busy central section around Grindelwald) and it feels like a journey with very different places to start and finish. The most challenging and exciting days included the 2 highest passes of Sefinenfurke and Hohturli, as we expected. It was a great walk! It was also very photogenic so I took lots of photographs.
I have a bad back and we agreed before we started that we wouldn't knock ourselves out with really long walking days by trying to walk every step of the way; if there was a convenient lift, train or bus that would get us in a good position fast, without missing some key point of interest, we would use it. This allowed us longer breaks at some mountain restaurants with spectacular views and we did not need to rush the walking. In the end our longest day was 18 miles but mostly we managed to keep to 15 miles or less. We also needed luggage transfer so that we only carried daypacks. For me, as the original instigator, organiser and chief navigator of the trip, a major part of it was to take photographs to add to my professional picture library. Finally, we stayed in good hotels and were well looked after pretty much everywhere.
Totals: 209 miles, 18 passes, 16 days of walking (121h), almost 13,500 metres (44,300 feet) of ascent. Our high point was Blumlisalp hut at 2873m (9,450 feet), above Hohturli Pass.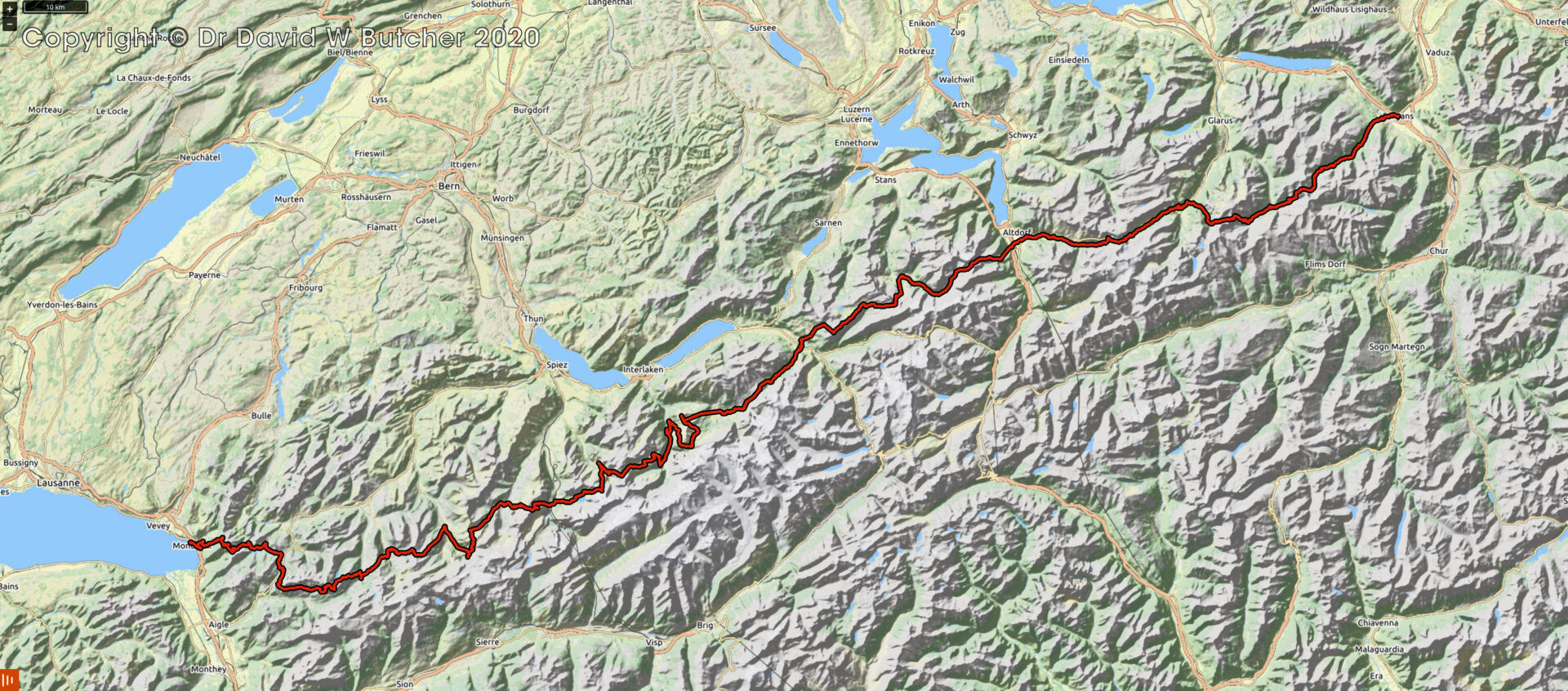 Swiss Alpine Pass Route Map
Ordering Prints
If you would like a black and white print as a memento of your trek, all of the black and white images are available. They were taken with a Mamiya 6 or Mamiya 7 camera on Ilford FP4+ 120 film and are available as high quality hand made darkroom prints in a range of sizes from 40x30cm to 70x70cm (size refers to mount and frame, image is a few cm smaller).
They all have a 6 digit number at the end of the title to uniquely identify the negative to help ordering – just type this number into the search box in the World Landscapes Gallery and it will show the image and ordering information. Not all images are included so if you can't find the ones that interest you just send me an email using the Contact page form on this website and we'll sort out the details between us.
Walking Team for both 2006 and 2013
Jan (my wife), me, Phil (a friend I met on a ski mountaineering trip in the 1993), Rob (we used to work with him in the 1970's) and Annie (American wife of Rob).
Support Team
2006: Rik and Glen. We have known Rik since the 1970's, then he ran a pub in Norfolk with wife Glen before retiring. In 2004 and 2005 they helped us in a similar endeavour as we wanted to walk from Fort William to Ullapool and on to Cape Wrath the following year. There was no luggage transfer in that part of the world so they generously volunteered, did a great job and were excellent company in the evenings. They also tour the world a few months a year in their camper van and wanted to see Switzerland so they volunteered to transport our luggage between our accommodations and be with us each evening. They were able to park close by every evening and I don't know what we would have done without them as I wouldn't have been able to carry the load with my bad back. Rik was also particularly good at spotting us coming and having the beers lined up for when we arrived!
2013: Rik and Glen were unable to join us so we paid the newly formed Swiss company Swiss Trails to move our luggage and also book our hotels. They did an excellent, faultless job for us. Unfortunately, Swiss Trails are no longer trading so you will need to find an alternative if you need luggage transfer each day.
Swiss Alpine Pass Route Part 1
Getting there 2013
Friday 30th, Saturday 31st August 2013 Tunstead Milton to Folkestone to Calais to Trier
We drove down to Folkestone and caught an early shuttle across the channel the following day. Then 6 hours from Calais we arrived in Trier, Germany, our first time here and overnight stop. It was overcast with rain showers so I didn't rush to take photos in the town. My bad back needed time to recover anyway. We wandered around to get our bearings waiting for the rain to stop and the clouds to break up, which they did at around 6pm. The pedestrian zone in the centre has so many vehicles driving around it the name is a bit of a misnomer!
I took photos of the old Roman gate, the main medieval square and the cathedral then had a break as the light faded. We found a pub that sold Schwarzbier and reasonable food to while away the time until dusk. Shooting resumed about 8.30pm, lights were on and starting to look good but there was still detail in the sky so I took the main locations again as night shots. I was all finished by 9.45pm.