It's October but better late than never, here's the blog post for a Lake District Photo trek that I made during Lockdown 3 in the UK. The trip had been booked in 2019 for July 2020. However, Covid-19 meant that we had to delay it by a year to 2021. 
It was my first trip since February 2020 (pre-Covid) and I was very nervous about going because of the danger from Covid-19, especially as I have chronic asthma so a chest infection on top of that can be very serious for me. In truth, if the accommodation and luggage transfer hadn't been booked, and a promise made to my very good friend Al, I wouldn't have gone. Fortunately, both Al and I were both double-jabbed with the AstraZeneca vaccine and the Lockdown 3 restrictions in England stayed in place until after we returned home in July 2021. This meant that mask wearing indoors and social distancing inside and outside pubs and hotels were both in force.
In 2019 Al and I walked the Dales Way (diverting over the 3 Peaks between Kettlewell and Dent) and were talking about future treks that we could do and agreed that we preferred the Lake District to most of the other places that we had walked together, excluding the places where we live, Peak District for me and Cotswolds for Al. I knew that we had walked lots of Wainwright's on our treks but hadn't been keeping count of how many we'd each done. After a quick count up of just the walks we'd done together it was obvious that we had already done almost half of the 214 total. Adding in the ones we had done on our own pushed the total up even higher so the decision was made to finish the Wainwright's over the following few years. A bonus for me was that the Lake District is a very photogenic place as well so it would give me the chance to add to my black and white picture library for the area.
The main aim of the trip was to include as many Wainwright's as possible in our 7 days and include a 6 day trek around the Lake District with our luggage being moved between accommodation for us so that we just carried light day sacks. Then Al would leave on the Saturday after our trek and Jan would come and join me for a couple of days walking together before we returned home on Monday 12th July. Here's the story of the trip.
Friday 2nd July 2021 Travel to Lake District
Jan drove me over from our home near Whaley Bridge to the Costa Coffee car park in Holmes Chapel where we met Al at 11.15am, he had driven up from his home near Gloucester. We moved my kit across to Al's car, said our goodbyes and then Al and I were off to the Lake District for our annual trek.
We went the quickest way, straight up the M6 to Penrith then along the A66 past Keswick to the road to Lorton and Loweswater. It was 2.30pm when we arrived and the Kirkstile Inn in Loweswater was still busy with lunches but they looked after us a few minutes later. We were in room 5, a small L-shaped room with 2 single beds and an ensuite. Nothing fancy but good enough.
While unpacking the car I discovered that my camera gear was missing, I was shocked and couldn't believe it – it's the first time this has ever happened, I must have missed moving it across to Al's car. I texted and emailed Jan to see what the options were. Jan had checked and confirmed that my camera had been left in the boot of our car in Holmes Chapel when I swapped over to Al's car. Jan immediately suggested driving up with it early the next day. I was mightily relieved and left Jan to decide when to come. Disaster averted!
We had a table booked for 6.30pm for dinner. I had chicken stuffed with sausage meat and wrapped with bacon with vegetables and chips. It was very nice. They had 3 beers on, none of them my preferred dark ale so I had the Loweswater Gold, a citrusy golden ale. There were quite a few high plastic screens spread throughout the bar and dining areas as protection from Covid-19 and the staff all wore masks which made me feel a bit easier.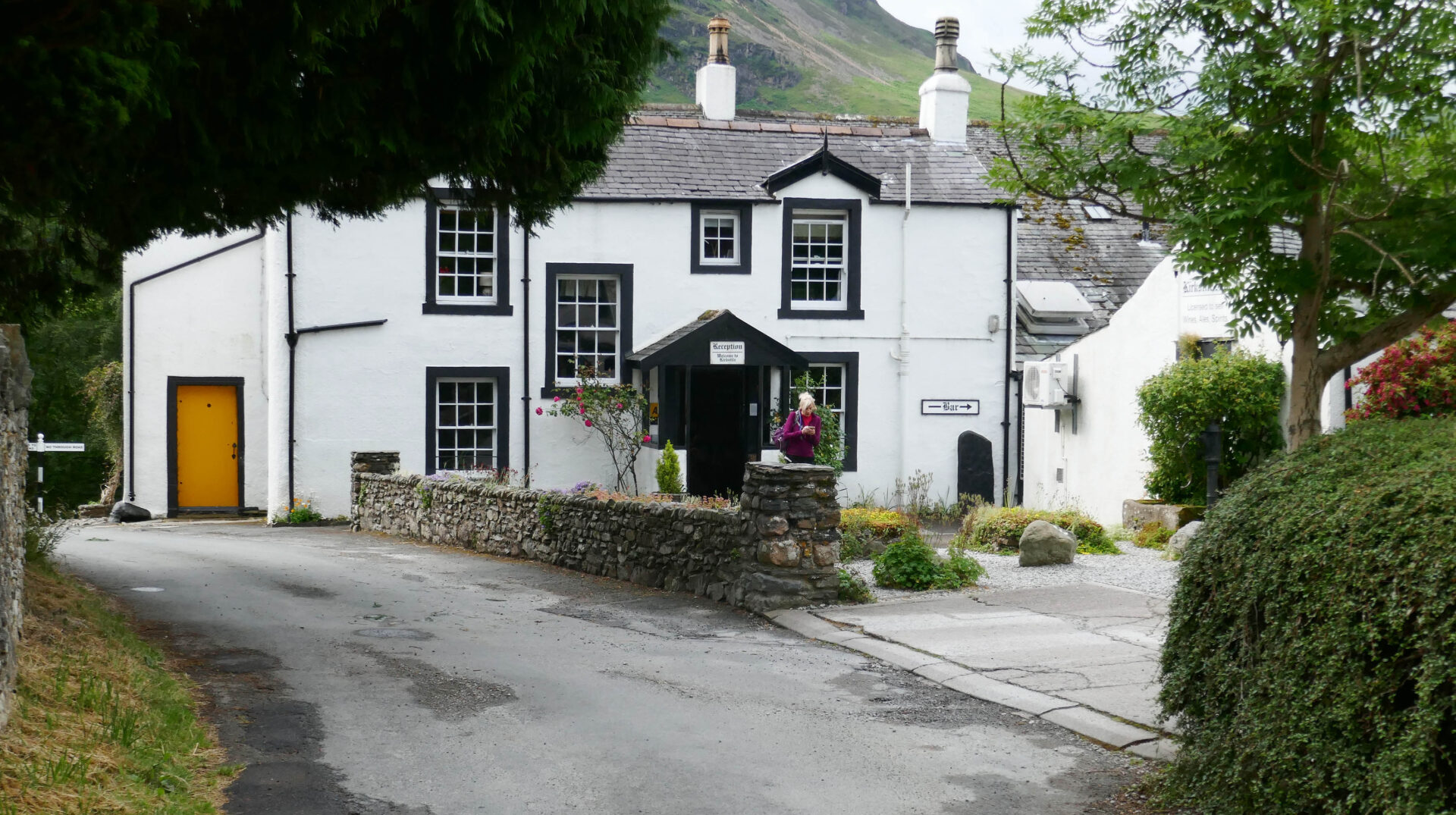 Saturday 3rd July 2021 Whinlatter Wainwright's 10.5 miles 5h 3500 feet/1100m ascent, 6 Wainwright's including Lord's Seat twice
We went down to breakfast at 8.15am, when it opened. They were limiting numbers to 4 people every 15 minutes because of Covid-19 and everything was waitress service. The full English breakfast with no egg was great! Bacon, sausage, black pudding, hash brown, beans, mushrooms and tomato followed by toast and marmalade. That kept me going all day!
Jan arrived with my camera as we were finishing breakfast. She left home at 5.45am for the 3h trip. We briefly chatted and then she left to drive home!
The forecast was bad for the day, lots of rain and a bit breezy, so I left my Mamiya 7 camera at the hotel and just took the little Panasonic TZ-100 digital camera. We parked near Spout Force and headed off at 10am walking along the road to the Whinlatter Pass. From there we followed tracks through the forest and along to Whinlatter and the higher summit beyond. Our first Wainwright of the trip at 11.15am.
From there we returned to Whinlatter summit and veered off northeast over the moor to a pedestrian gate in the corner. A forest section followed and we were soon on the top of Lords Seat, in thick mist so no view. From there we went down into a dip and up to Barf at 12.45pm and had an uninterrupted view of Bassenthwaite Lake below, as well as a quick bite to eat sitting with our legs dangling over the drop down to the lake. Then it was back to Lord's Seat again before continuing along the ridge to Broom Fell and Kirk Fell at 2.10pm and across a few hundred yards to the Wainwright Graystones. That was the 5th Wainwright of the day.
It was a very steep descent, like walking down a black ski run. It was very warm work so I took my waterproofs off part-way down as it looked like the rain had cleared. At the river below the path was closed for forestry work so we followed the road and were back to the car by 3pm, the rain returned for the last few minutes so we were in rain most of the day!
Then it was back to the pub for a couple of Loweswater Gold beers before going to our room for a rest and shower before dinner.
Dinner was an excellent Steak pie, vegetables and chips washed down with a couple of pints of Loweswater Gold. After dinner we returned to our room to watch part of the 2nd half of the England v Ukraine Euro 2020 quarter final. England won 4-0.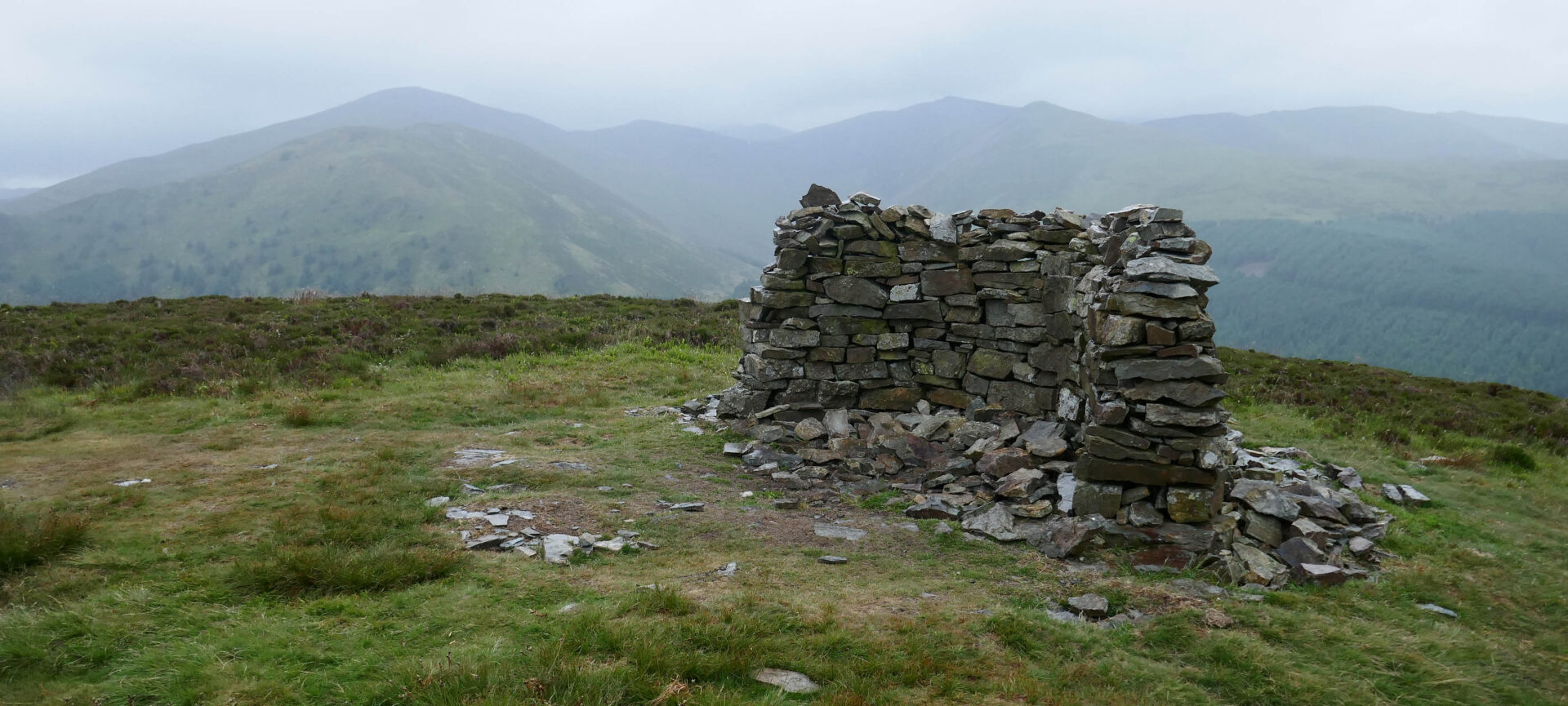 Sunday 4th July Kirkstile to Ennerdale Bridge 11 miles 5.5h 2800 feet/850m ascent, 4 Wainwright's
After a full English breakfast we left the Kirkstile Inn at 9.25am and walked past Loweswater lake before heading up through the woods onto the open fellside. We had good views back over Loweswater to Low Fell and Fellbarrow which would be the last 2 Wainwright's of the trek. We reached our first Wainwright of the day, Blake Fell, at 10.44am but unfortunately, the heavens opened for 20 minutes at Blake Fell and Gavel Fell but we had full waterproofs on from the start so I just put my hat and gloves on as well at Blake Fell. This is summer in the Lake District after all!
After Gavel Fell it was dry so I took my jacket off for the warm climb up Hen Comb but left my waterproof overtrousers on just in case. There were good views at the top in every direction, especially to Fleetwith Pike at the far end of Buttermere lake. I took quite a few photos on my Mamiya 7 camera, especially across to the Grasmoor range.
Several people arrived at the top shortly after us and spread out over the broad summit but I spent most of my time taking photos but once that was done I had one of Jan's homemade Eccles cakes.
Then it was time to head down to Floutern Pass and down to Ennerdale. There were excellent views to both ends of Ennerdale Water before we dropped down to the road and walked along to the small village of Ennerdale Bridge.
We made a beeline to the Ennerdale Bridge Fox and Hounds pub, reaching it a 3.05pm for a couple of pints of stout to end the day. We hadn't been able to find accommodation here so we had arranged to be picked up at 4.30pm and taken to Nether Wasdale Strands Inn.
We checked in with Lesley, who owns 2 inns on opposite sides of the road and the brewery with husband Mark, and were shown to our twin room. It was a very comfortable modern room, the shower was excellent too.
The Strands was only open for accommodation and residents breakfasts and all other food and drinks was being served across the road at the Screes Inn. There was also a very large marquee standing outside the Screes with lots of bench tables inside, it was open at both ends and the odd panel facing the Screes. It turned out that they were only serving food inside the Screes to residents of the 2 inns, everyone else was catered for in the marquee. There were also high plastic screens protecting each table from the next, similar to those used at the Kirkstile as Covid-19 protection. We headed across to the Screes and went inside to the bar and were shown to a table, there was lots of space, and I just had one Terminator dark beer, it was excellent.
We had dinner across the road from the Strands Inn, where we were staying, in the Screes Inn. I had fish and chips with a couple of Terminator beers before turning in for the night.

Monday 5th July Ennerdale Bridge to Nether Wasdale 14.4 miles 8h 4000 feet/1200m ascent, 6 Wainwright's
We went down to breakfast at 8.10am (weekdays breakfast is 7am to 9am), and my full English breakfast consisted of sausage, bacon, beans, tomato and mushrooms finishing with toast and marmalade.
We had arranged to be picked up at 9.30am and taken back to Ennerdale Bridge, there was no luggage transfer needed today.
At 10.05am we started out and were soon climbing up on a good track to our first Wainwright of the day, Grike, which we reached at 11am. There was a good view to the coast from here and we met a couple from near Newcastle who were also doing the Wainwright's, they'd already done them several times but were doing them again. I think once will be enough for me!
Crag Fell was next and it was just a few minutes away. We still had a view to the coast but an even better one of the whole Ennerdale valley, including the end of the ridge that runs past Buttermere to Great Borne.
The weather closed in as we made our way to our next peak, Lank Rigg, so I tried to cut the corner off but barbed wire prevented this so we ended up using the stile a few hundred yards away. From there we made our way over the hillside and eventually joined a good track to the top, reaching Lank Fell at 12.35pm. There was no view and it was a bit damp but still warmish.
We had a choice of routes from here, follow the track back to the col and then take the good path along the ridge, or we could take a more direct route and bushwhack over the trackless ground to join the ridge much closer to Caw Fell. I chose the latter and sold it to Al as being shorter and more interesting. I may have forgotten to mention the extra down and up that we'd have to do. Oops!
It took us just over an hour and a half to reach Caw Fell, passing the couple from Newcastle coming down as we went up the final slope. They went directly from Crag Fell to Caw Fell. On the top it was quite a confusing summit being fairly flat with several cairns so we visited them all to make sure we included the highest. There were still no views with low clouds all around but they seemed to be lifting and thinning.
After this it quickly cleared so that by the time we reached Haycock at 2.55pm there was some brightness around. The rest of the day we had sunshine. I ran around taking photos now that it was clear so we didn't leave until 3.15pm.
Our last peak of the day was Middle Fell. We'd already decided that including Seatallan as well would be a peak too far. There wasn't much of a track so we just made our own way down through a line of cliffs and across a grassy boulder slope towards Seatallan before picking up a track up Middle Fell. We made it to the top at 4.15pm. It's a really good viewpoint so I took a few minutes to take some photos across to Yewbarrow, the Scafell range and Great Gable.
It was a good track, steep in places, down to the road which we reached at 5pm. Then we picked up a series of footpaths mainly across fields to Nether Wasdale, finishing by walking through the campsite and on to the Screes Inn at 6pm where we sat in the marquee and had a well earned beer.
We booked a table for 7pm, the kitchen closed at 8pm, and returned to our room for showers, clean clothes and a brief rest for my aching back.
We had dinner in the Screes Inn and I fancied something spicy so chose the Chicken Madras but unfortunately it was very mild, but tasty. I've never had a mild Madras before!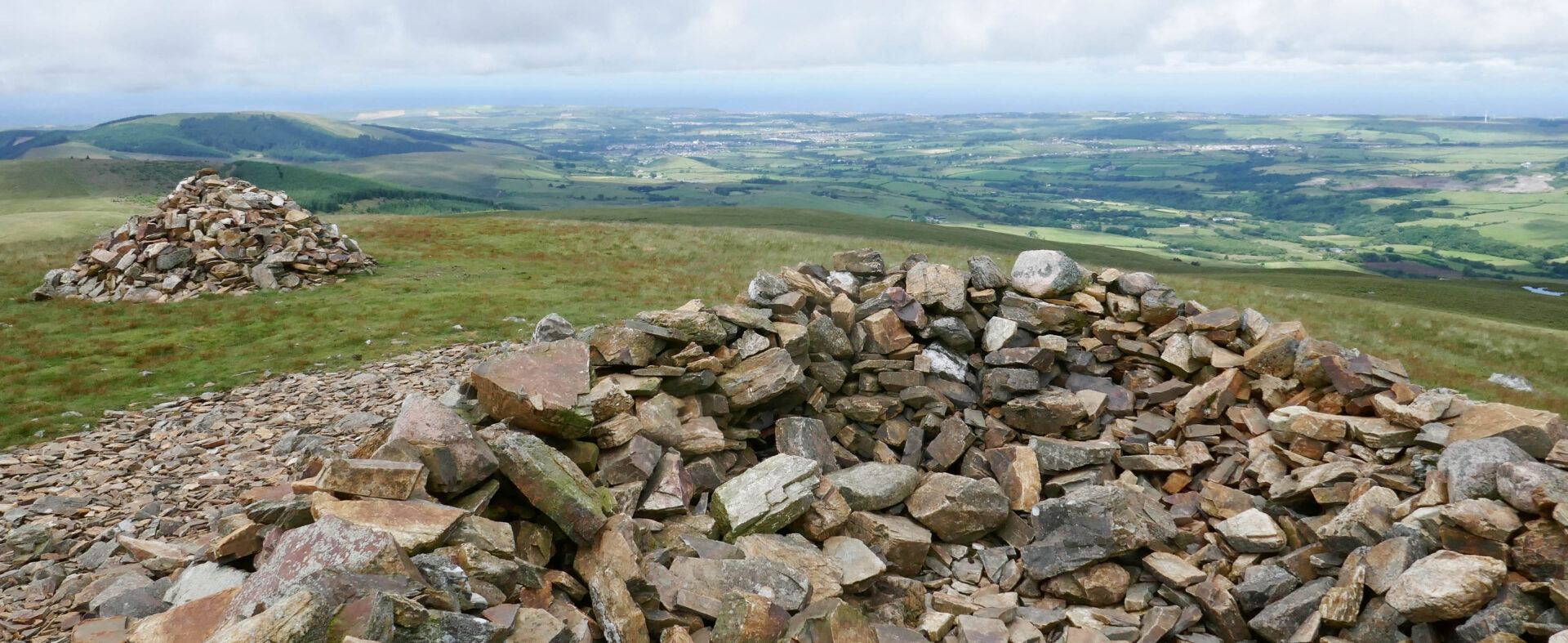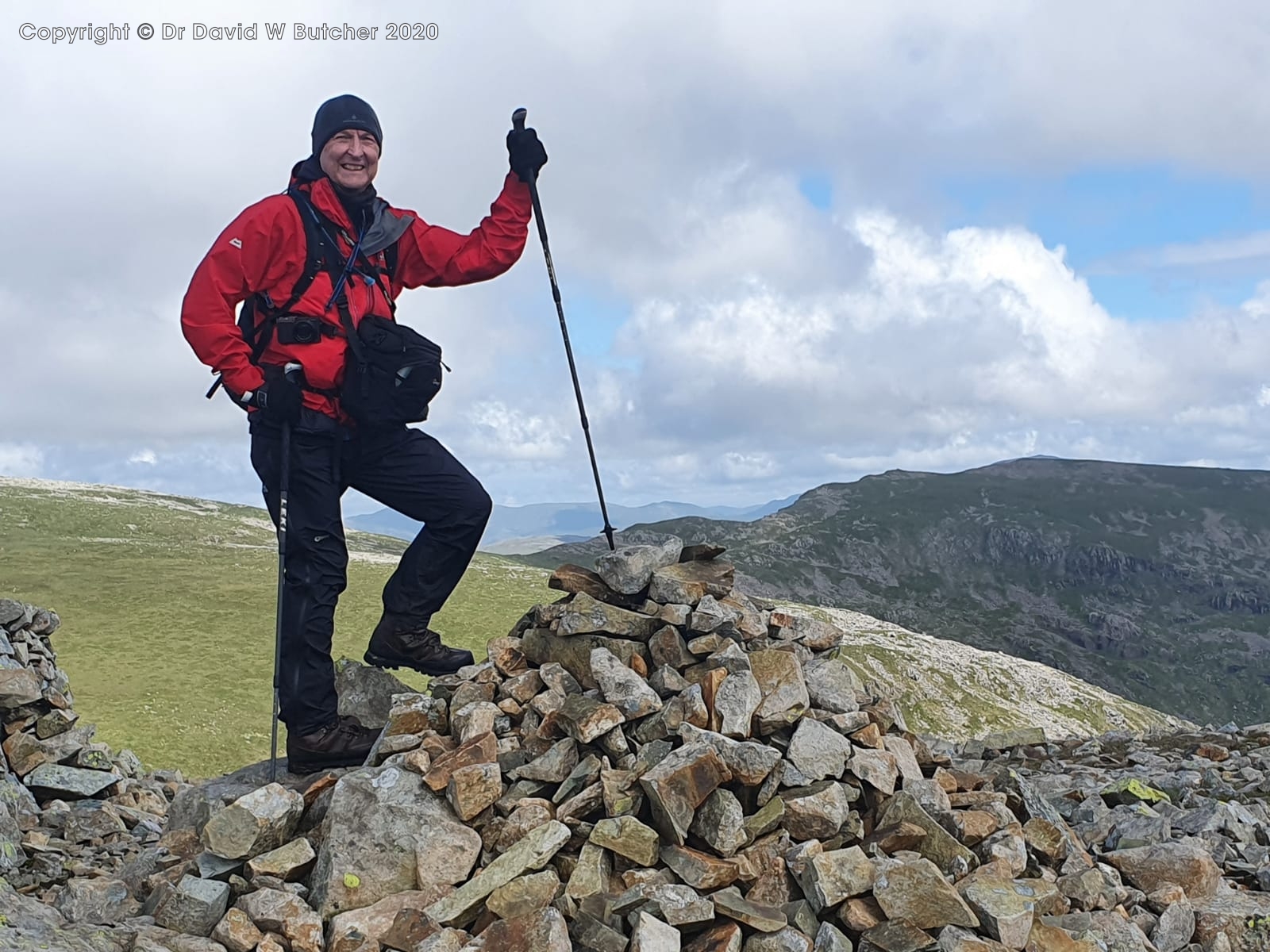 Tuesday 6th July Nether Wasdale to Wasdale Head 13.1 miles 8h 4600 feet/1400m ascent, 2 Wainwright's
We went down to breakfast at 8.20am and I had another full English, similar to yesterdays. After breakfast Al took both of our bags down to the bar area where they would be collected from later in the day and moved to our next stop, as usual.
We were off from the Strands at the crack of 9.45am and briefly followed the road before heading off along footpaths to join the road behind the YHA and turned left along the road to Wast Water. I originally planned to take the path at the foot of the Wasdale Screes on the other side of the lake but Jan reminded me before we left that all the twisting and turning on the loose rocks and boulders hurt my bad back the last time I did that so we walked along the roadside instead.
At 11.30am we left the road, walked along the edge of the campsite and started up the ridge to the top of Lingmell, reaching it at 1.45pm after a 10 minute stop for snacks (homemade Eccles Cakes) on the way.
From Lingmell we dropped down to the Corridor Route which we briefly followed before heading up alongside the upper part of Piers Gill to Broad Crag. The top section was very steep with broken rock and scree underfoot and everything seemed to be loose, it was a dreadful track! I opted for the left side but that was probably worse than the right side, although both looked bad. We reached the track at the top just after 2.30pm, probably not the best shortcut I've ever taken!
From here we followed the main ridge behind Broad Crag for about 40 minutes before heading off to Great End summit (3.15pm). It was still dull but with bright patches every now and then up as we descended. First we went down to Esk Hause, past Sprinkling Tarn to Sty Head then it was a very rough tourist track from here to pick up Moses Trod path in the valley below and on to the Wasdale Head Hotel at 5.45pm.
We were originally booked to stay in the Wasdale Head Hotel, but they deleted our booking in error just a few weeks earlier. It was lucky that Jan rang all of our accommodations a couple of weeks before we left to check that they had our bookings otherwise we wouldn't have had anywhere to stay! They were fully booked so they moved us to the Lingmell bed and breakfast a few hundred yards away (near the main Wasdale Head car park)! They seem to use it as an overspill for the hotel.
We had a quick pint and then found our luggage and wheeled it along the road to the bed and breakfast.
Our room was a big twin but with no ensuite, instead there were two separate bathrooms at the other end of the house, each with a toilet, bath and shower as well as an extra separate toilet. There didn't seem to be many other residents so it wasn't a problem.
We walked to the Wasdale Head Hotel for dinner where they treated us as a resident since that's what we should have been! I had gammon, chips, salad and vegetables and a couple of leisurely pints before we walked back down the road.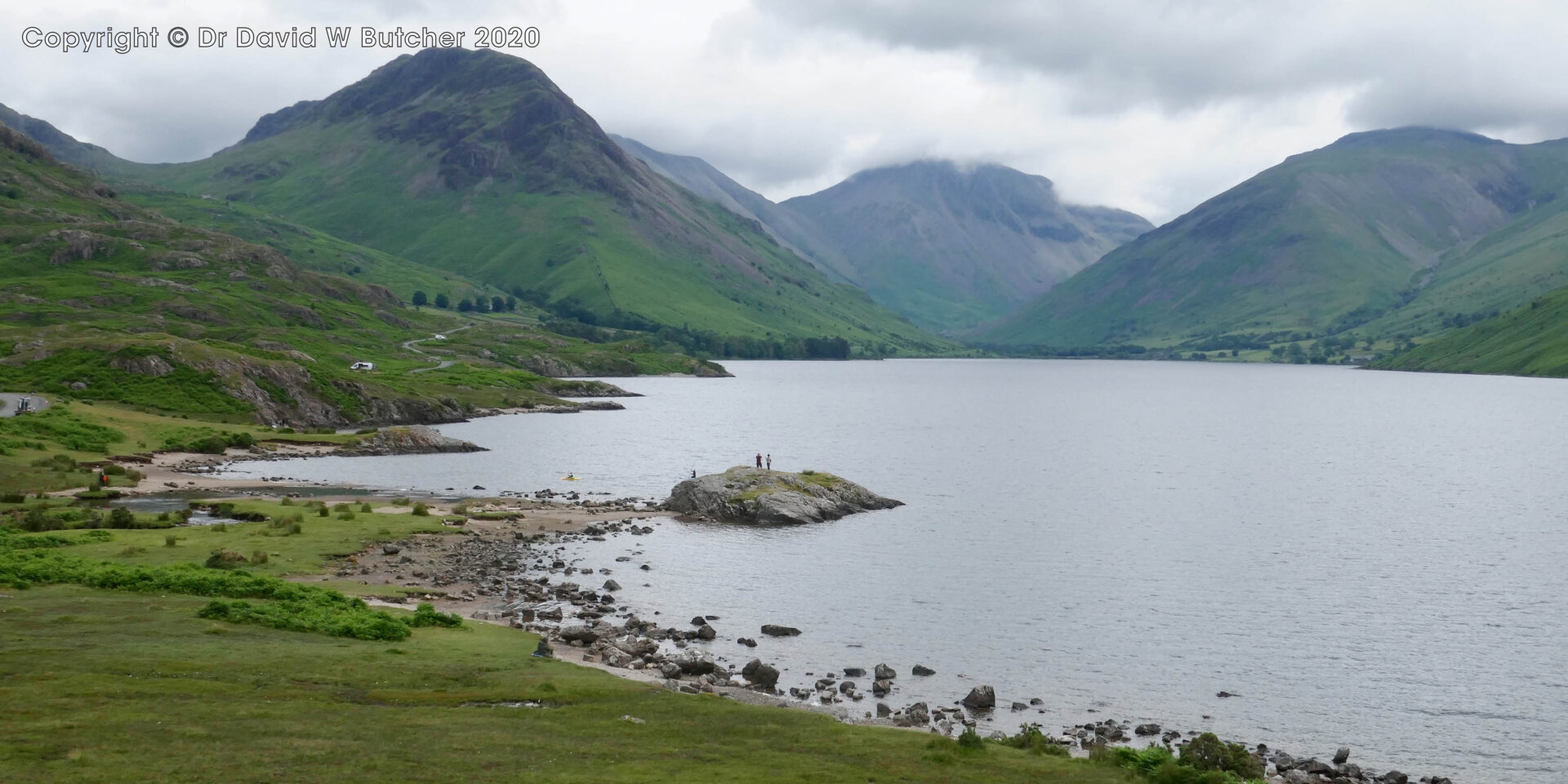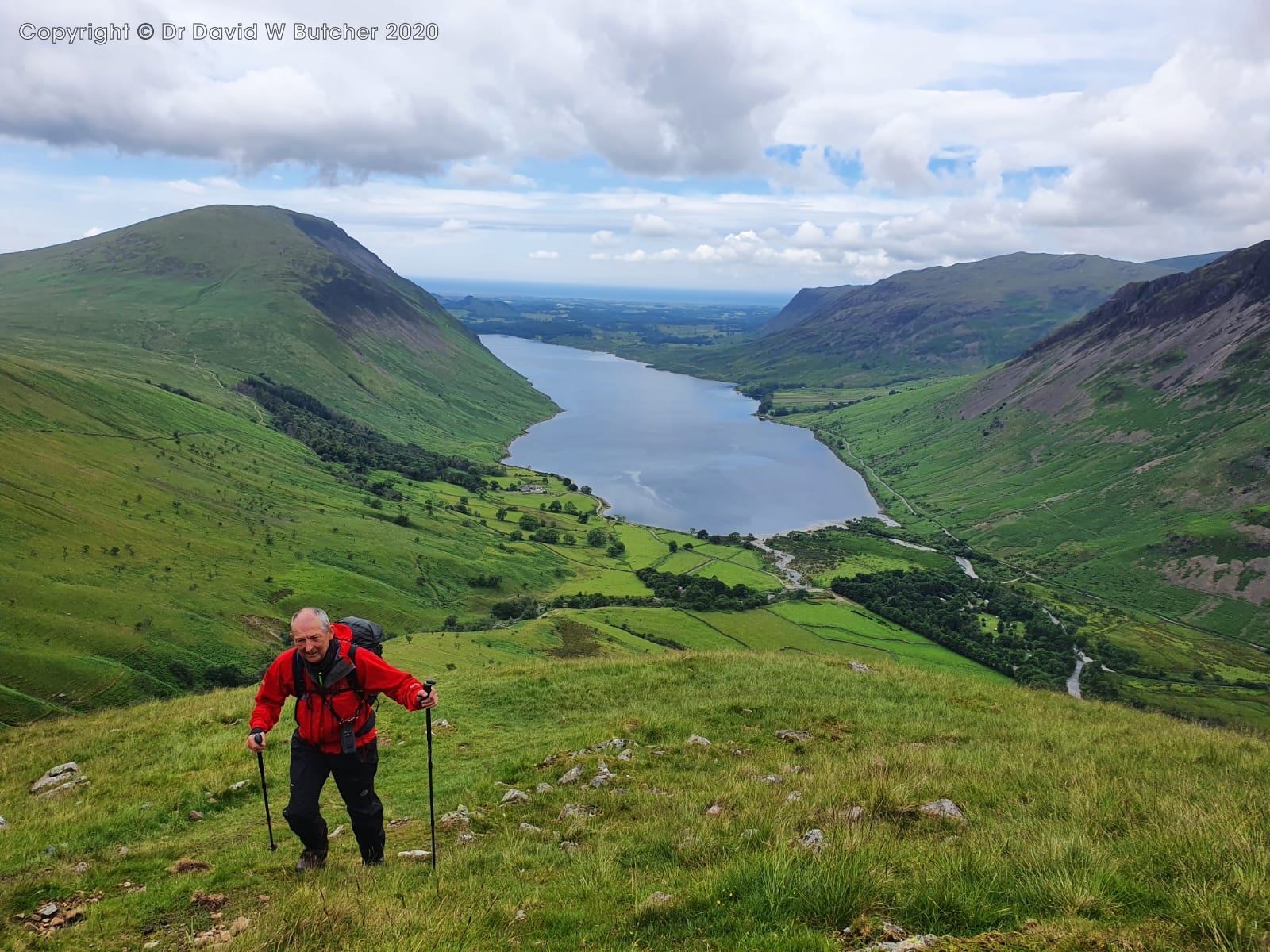 Wednesday 7th July Wasdale Head to Buttermere 11 miles 8.5h 4700 feet/1450m ascent, 5 Wainwright's
Breakfast was at 8am (the earliest available) and there was just one other couple down for an early breakfast in the large room. For a change I decided to have a full English which consisted of sausage, 2 rashers of bacon, beans, tomato and lots of mushrooms followed by toast and marmalade.
We paid up and left at 9.25am to take our luggage back to the hotel and reminded hotel reception of the arrangement, so that they didn't call the bomb squad to our unattended bags before they were picked up, and then headed off to Buttermere via a few of the tops.
I had never been up Kirk Fell before but Al had, so I chose a route that he hadn't done and I thought should be interesting because of the views – the Nose route, which is effectively going straight up the shortest side that faces down the valley. In fact it wasn't too steep and we reached the summit shelter at 11am. It was cloudy on the tops but cleared later to be a sunny day and I took a few photos on the way up and through the day.
From the top of Kirk Fell we headed over to Beck Head and round the back of Great Gable to Windy Gap and up to Green Gable just before 1pm. Neither of us had been up Base Brown so this was next and there was rather more down than up to get there at 1.30pm, it was time for an Eccles Cake. I walked down further to the cliffs overlooking Seathwaite for photos before returning the way we came and veering off to Brandreth for some photos at 2.45pm.
It was starting to brighten up a lot now but was still a bit cool on the tops. Al hadn't been up Grey Knotts so that was next at 3pm and then we went down to the left of Fleetwith Pike, keeping on the left side of Warnscale Beck to come out at Gatesgarth on the road to Buttermere at 4.30pm. From here we followed the track on the north side of Buttermere lake all the way to the village. Al went ahead to the Bridge Hotel in Buttermere as I was taking lots of photos and making quite slow progress as a result. I eventually reached the Bridge Hotel at 5.55pm and met up with All again in the bar. Table spacing was similar to our pre-covid visits so I didn't feel as safe here as in any other pub/hotel on this trip.
Our room was very comfortable, as it should have been for the price they charged us! It was by far the most expensive accommodation on the trip but it was in the right place, right on our route, but I doubt that we will stay here again.
The Jennings Bitter was very ordinary. They had changed it since my last visit in February 2020 and it was nowhere near as good now, maybe it wasn't kept very well? In the evening I had Chicken, chips and corn on the cob in the basket. Fortunately, it was a warm evening so there were a lot of people sitting outside. If they had all been inside, where we were, I wouldn't have felt safe as we would all have been very close together. It didn't help that the waiter kept taking his face mask off to speak to us as he said it muffled his voice! We could hear him quite clearly so not sure what was going on there.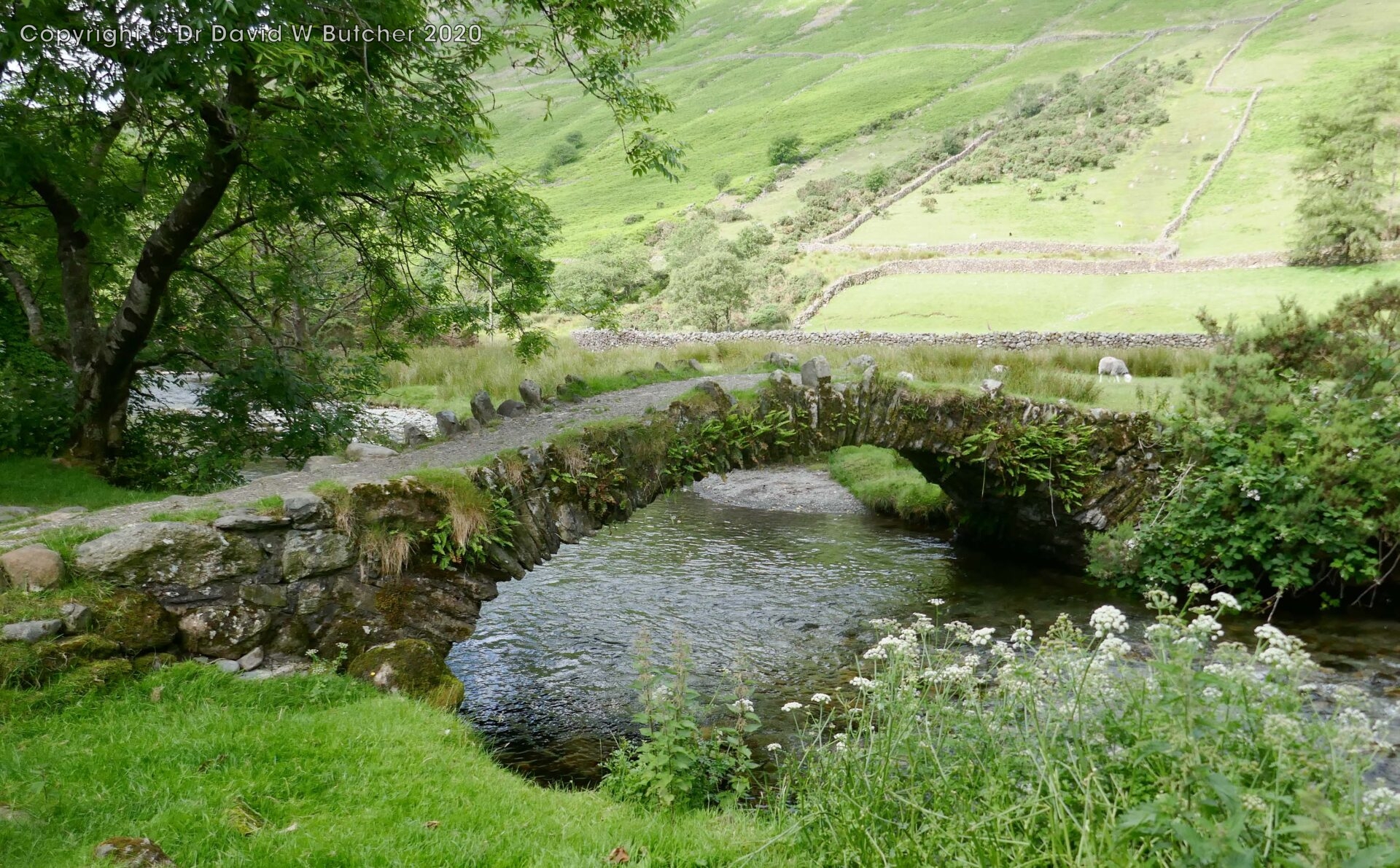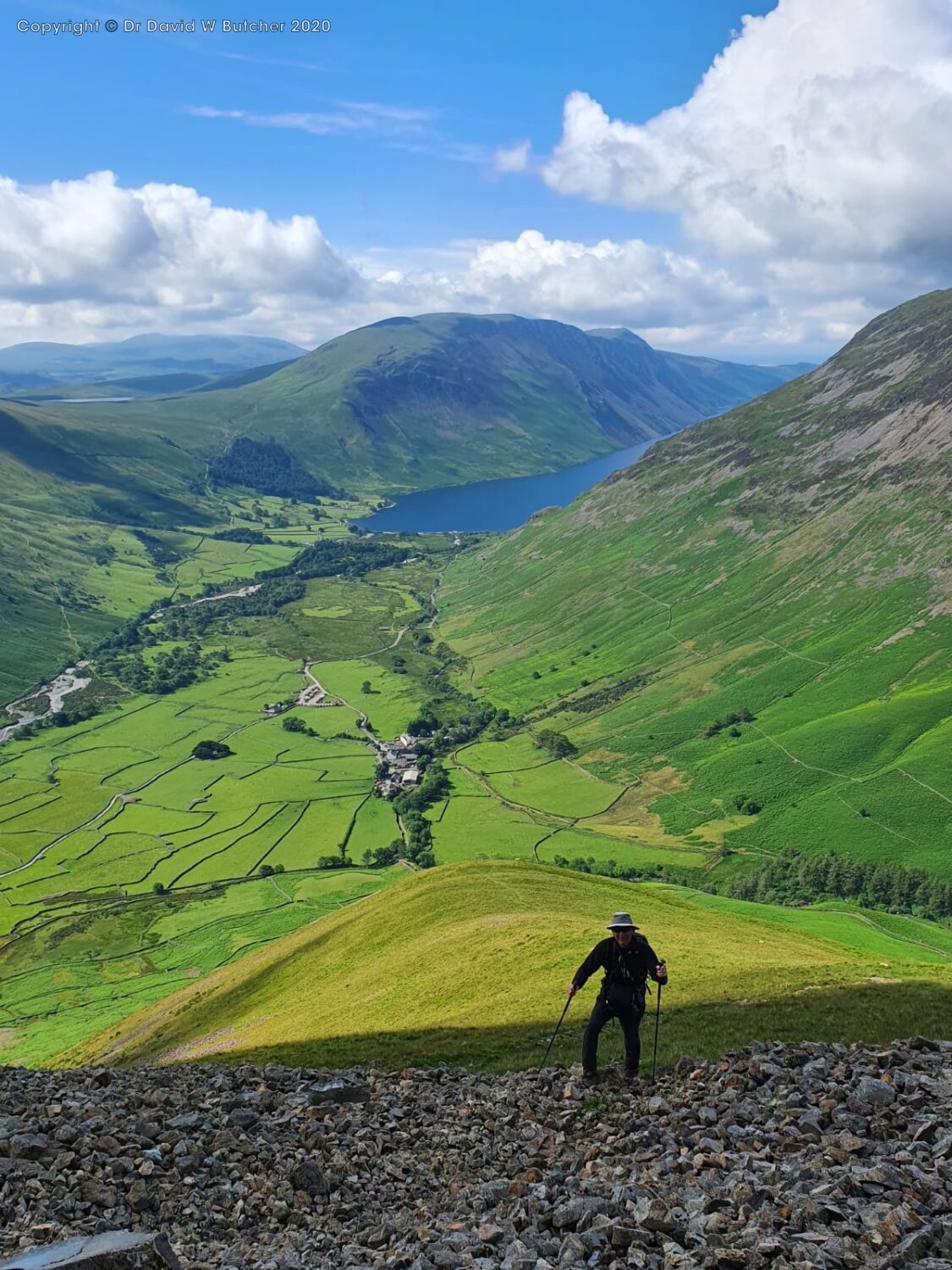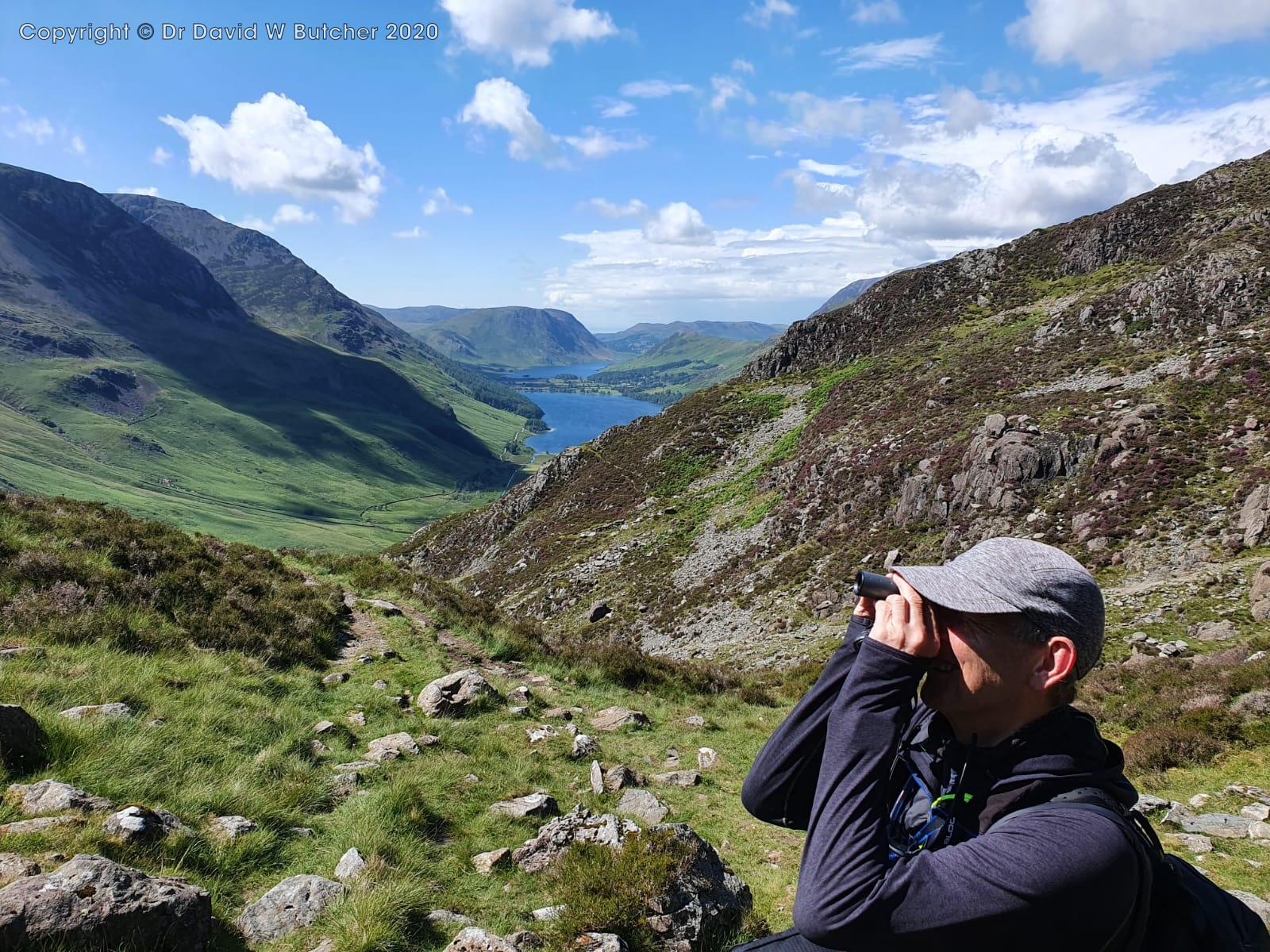 Thursday 8th July Buttermere to Braithwaite 8.6 miles 6.2h 4500 feet/1400m ascent, 7 Wainwright's
We went down to Breakfast at 8am (earliest available). The breakfast room tables were too close together to allow Covid distancing but fortunately we were served and away before anyone sat near us, I still felt uneasy about it though. I decided not to change my winning formula and had a full English of sausage, 2 rashers of bacon, hash brown, tomato and mushrooms followed by toast and marmalade with lashings of tea.
Al left our bags in reception ready to be picked up later. People were now queueing up to get into the breakfast room, going early was clearly a good decision. It was dry but dull as we left at 9.30am.
After no more than 100 yards it started to rain quite heavily so we stopped to put on full waterproofs. We continued along the road past Wood House then on a path uphill but parallel to Crummock Water and the summit of Rannerdale Knotts along Low Bank to join the track up Whiteless Pike at 11am. The steady rain continued until 2.30pm so there were no views from Whiteless Pike, Wandope, Crag Hill or Sail.
Thankfully, the rain stopped before we reached Outerside, it was still dull though. It was a little bit brighter as we came down off the last peak, Barrow, and made our way to the Royal Oak in Braithwaite. It was quite busy so we chose a table outside as far from other people as possible and had a beer each. It was the same Jennings Bitter again which was a lot better than last night in Buttermere so it must have been the way it was kept and looked after that was the difference.
Tables indoors in the bar area were packed and not well separated but the residents' breakfast room was good so we had our evening meal in there as well as breakfast. Some of the outdoor space was close packed too.
Our room was in the new extension and was large and well fitted out, quite a difference from the last time we stayed here a few years ago.
That evening there was a lot of choice on the menu. I opted for sizzling duck Teriyaki and rice as something a bit different. It was very tasty.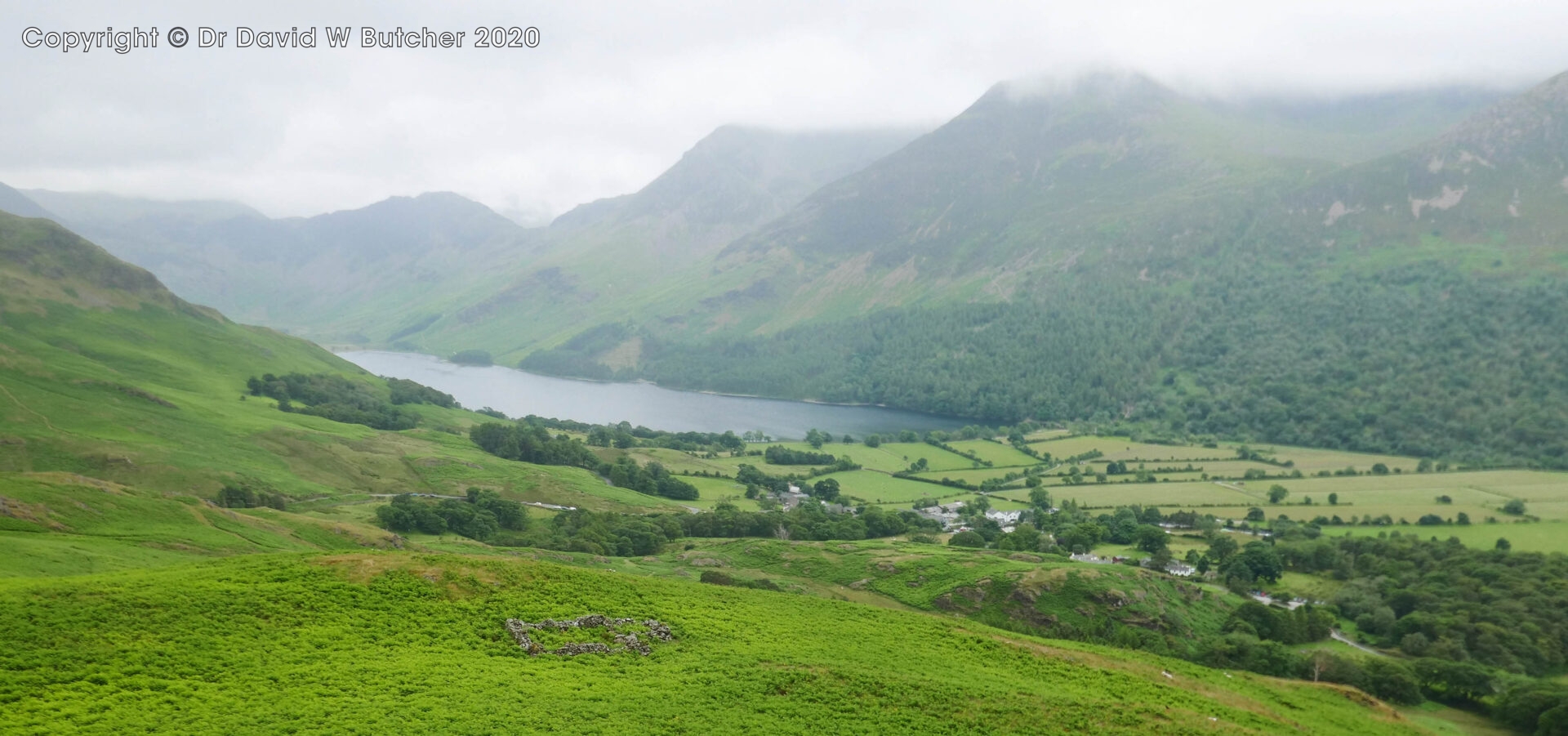 Friday 9th July Braithwaite to Kirkstile 13.6 miles 7.9h 6300 feet/1900m ascent, 4 Wainwright's
The earliest available breakfast was at 8.30am so we went down for that. I had the full English breakfast of bacon, sausage, black pudding, baked beans, mushrooms and tomato with toast and marmalade chaser. That should get me over the hills to the Kirkstile!
It was dull but dry all day. We left at 9.30am following the road uphill before taking the footpath over Sleet How to reach Grisedale Pike at 11am. Then it was down to Hobcarton Crag and on up to Hopegill Head which we reached at 11.45am. There were good views down to Ladyside Pike, the ridge was a bit slippery as we descended, I wouldn't have enjoyed it in the wet!
We made it to ladyside Pike at 12pm and then followed the ridge down and made our way to the road just above High Swinside Farm. From here there was a good green lane to Scales and along the road to High Lorton where Al spotted an ice cream shop – he was in like a flash and even bought me one. That doesn't happen very often so I made a very careful note of it!
Next came Low Lorton and a steady climb on a tarmac road to a green lane across the hillside towards Hatteringill where we headed off up and across to Fellbarrow trig point at 3.30pm. There was a good track along the ridge to Low Fell, which we reached at 4.15pm, with good views across to the Grasmoor range as well as along the Buttermere valley.
The track down from here was covered in thick bracken and weaved across the hillside but at the end went straight down. It was at this point that I felt a slight muscle strain just above my right knee from the very steep and long descent. It had been a hard day.
We finally reached the Kirkstile Inn at 5.20pm and had a beer outside in the beer garden to celebrate the end of our annual trek.
We checked in, took our bags up to the same room as we were in previously and showered and changed for the evening. We had both been looking forward to having a steak to finish the trek so I had an excellent Fillet steak with chips, peppercorn sauce and vegetables for £25. I might have had the odd pint or two of Loweswater Gold as well to wash it down!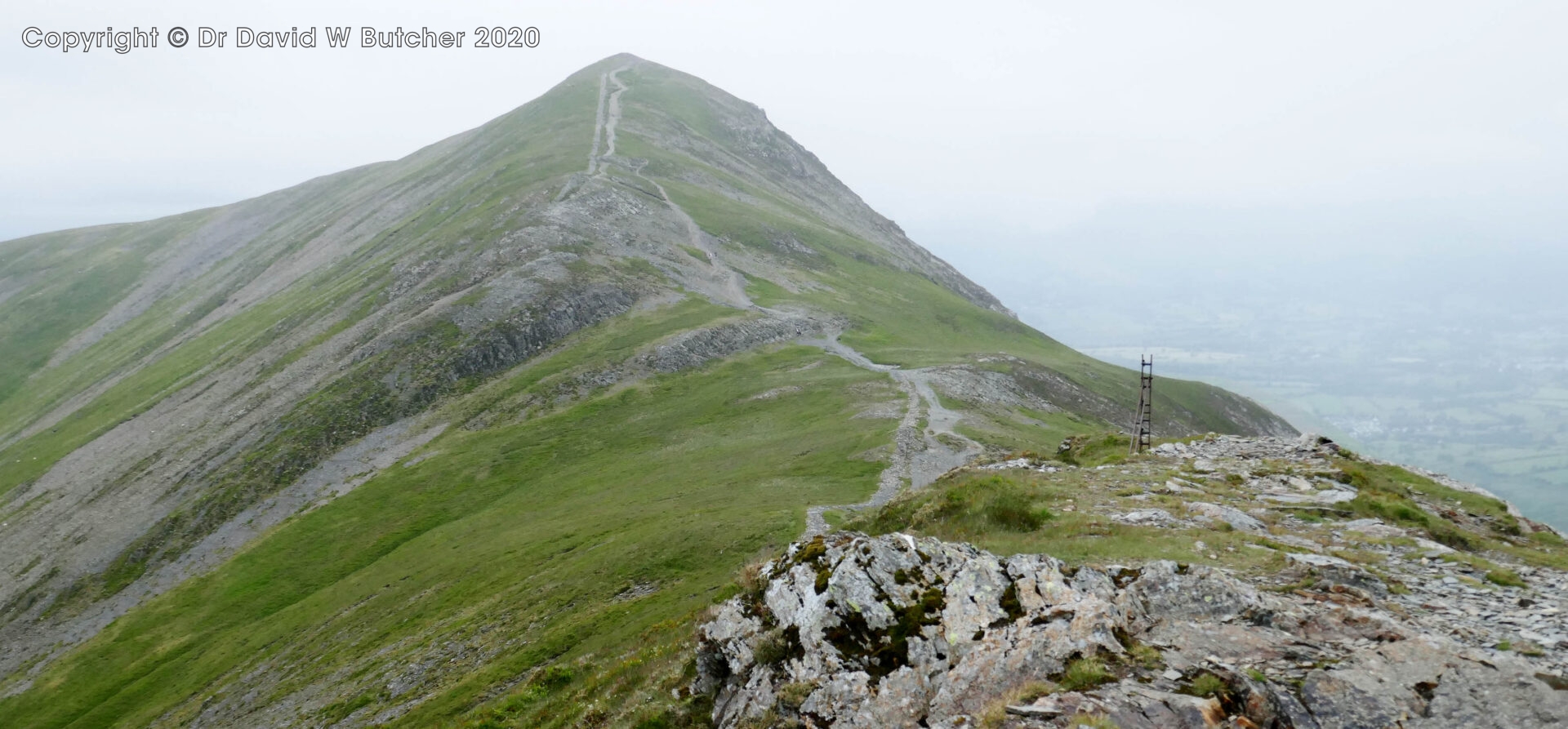 Saturday 10th July Embleton to Bassenthwaite Pheasant 4.6 miles 2.3h 1800 feet/550m ascent, 1 Wainwright
Al was driving back to his home near Gloucester today and with the bad weather he decided to leave straight after breakfast, rather than do a short walk with me in the rain before leaving.
We had the usual breakfast at 8.15am. I decided to try the full English for a change which included bacon, sausage, black pudding, baked beans, mushrooms and tomato followed by toast and marmalade.
I left with Al at 9.40am and he dropped me off a few miles away at the turning on the A66 to Embleton village, at 10am. He then drove back to Gloucester via the gingerbread shop in Grasmere. Not the most obvious route to take!
I crossed the A66 and walked to Wythop Mill and up to the foot of Ling Fell. It took me about an hour to reach the top of Ling Fell as my right thigh muscle strain from yesterday was a bit painful when my leg bent at the knee. I came down slowly and returned to Wythop Mill.
After consulting the map I decided to walk along the road to the Pheasant Inn at Bassenthwaite, the meeting place I had arranged with Jan. I skipped doing the second peak of Sale Fell as my knee was now painful but limping along the road was relatively pain free.
I arrived at the Pheasant at 12.20pm and met Jan. We had a bite to eat and a chat in the car before Jan drove us back to the Kirkstile Inn Loweswater for a lunchtime drink. I spent the afternoon resting my knee by laying down on the bed in our room. It wasn't looking good for walking with Jan the following day.
We went down to dinner at 6.45pm and I had the steak and ale pie and chips, it was very good.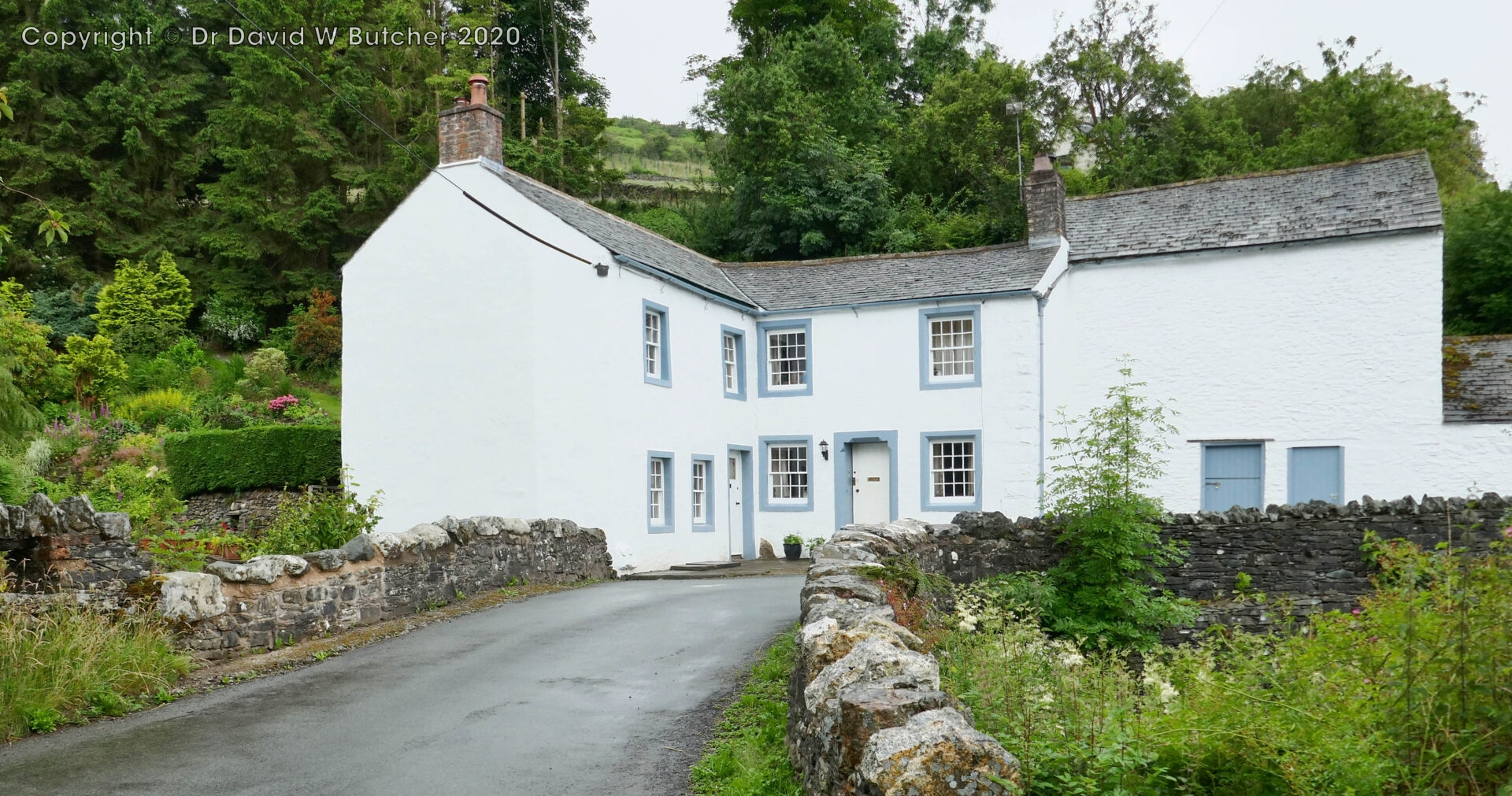 Sunday 11th July Travel Home
As expected my knee wasn't good enough for walking with Jan so we decided to leave a day early and return home to the Peak District so that I could rest it properly. We had an early breakfast, checked out and were home by midday. Fortunately, my leg wasn't too badly strained and resting it for 3 days was enough for me to be walking the Derbyshire hills again on the Wednesday.
Totals
Overall in 8 days Al and I walked 35 Wainwright's, 24 of which were new to me and 27 new ones for Al. That moves me on to 158 and Al to 128 Wainwright's completed out of the 214 total. This included walking 82 miles with over 32,000 feet/9,700m of ascent.
I carried my Mamiya 7 camera every day of the trek and took 6 rolls of Ilford 400 Delta 120 roll film exposed at 320 ISO giving me a total of 57 negatives after processing in Ilford DDX developer 1+4 for 6 minutes processed as 2 batches of 3 rolls in a Paterson 1.5 litre tank (Paterson tanks need 0.5 litres of chemicals per 120 film reel).
Photographic Gear and GPS
Mamiya 7 camera with 65mm lens
B+W Filters Orange, Yellow, Red and UV
Ilford 400 Delta 120 film x 15 (10 6x7cm shots to a roll)
Sekonic spot meter L758D
LowePro Toploader 70 AW II and shoulder harness (carried above waist on front)
Osprey medium rucksack cover for Mamiya in LowePro case
Panasonic Lumix TZ100 24Mp camera for blog post colour photos
Osprey 1.5 litre dry sack for Panasonic
Spare batteries for both cameras and light meter
Zeiss monocular and case (mainly for bird watching)
Sea to Summit 1 litre Ultra-Sil Dry Sack for Zeiss monocular
Satmap Active 20 GPS with OS 1:25k and 1:50k maps built in. I pre-programmed it with our routes. I also carried OS and Harvey's maps each day and a compass, just in case
---
---
You might also like
---